Polymer Serves an Array of Workboat Applications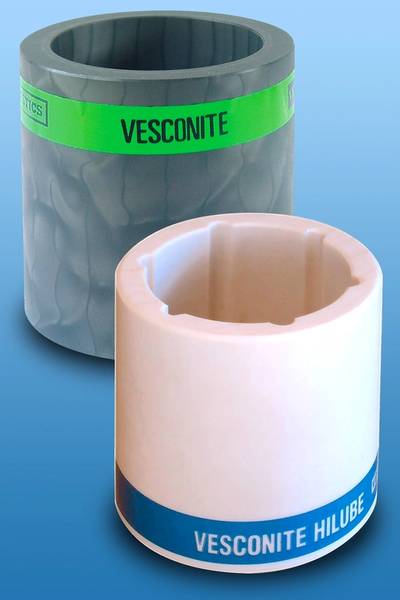 Workboats are built for a diverse range of purposes, but they all share the need for trouble-free bushings and bearings. Answering this call, Vesconite offers a line of low-friction, long-lived polymers that it says thrive in a dirty, marine environment.
The company's flagship product, Vesconite is a self-lubricating, low-wear material able to carry high loads at slow speeds. It doesn't swell in water or need to be greased, and offers up to 10 times the usable life of bronze, the manufacturer claims. The polymer is suited for rudder necks and pintles. On deck, it excels when used with winches, sheaves, rollers and pulleys, and in dockyards for slipway bogies and syncrolifts.
Vesconite Hilube offers lower friction and longer life. It provides no stick slip and will run dry. According to the manufacturer, it is particularly effective for high-speed underwater applications like propeller shaft bearings and spindle pump supports, commonly used in deck cranes and davits for pivot points and slew bearings.
Abrasion resistant and suited for high temperatures, Hitemp 150 performs in dirty conditions where maintenance is difficult and a long service life is required, such as in grabs and mud pumps.
All are easily machined and nontoxic. Hollow bar, solid rod and plate stock shapes are available in a range of dimensions and thicknesses from the company's Texas office.