Port of San Diego Plans 'Cold Ironing' Facility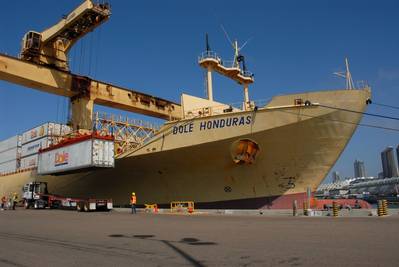 Port of San Diego's Tenth Avenue Marine Terminal proposes shore-to-ship power provision (subject to project's public approval).

The project would allow vessels such as container ships and refrigerated cargo ships to "plug in" and use electrical power from San Diego Gas & Electric , rather than run off their own diesel engines while at berth. The Port has accordingly prepared a Draft Mitigated Negative Declaration for the shore power project, per the California Environmental Quality Act (CEQA).

The proposed project, considered a Port Capital Improvement Project , would allow modifications necessary to install shore power equipment at three berths located at the Tenth Avenue Marine Terminal. Initially, there will only be the capability to power one vessel at a time.

The Port's main tenant at the terminal, Dole Fresh Fruit Company, recently signed a new long-term lease . Under the terms of the lease agreement, the Port and Dole agreed to work together on these infrastructure improvements. The Port is responsible for installing the land-side shore power infrastructure and Dole will pay for the vessel-side improvements.

Based upon the Draft Mitigated Negative Declaration findings, the proposed project, with mitigation measures incorporated, would not have any significant adverse impacts to the environment.