Powering the North American Maritime Fuel Transition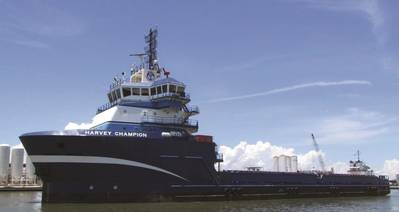 Offshore service vessels, along with workboats serving harbors and inland rivers, have embarked on an industry-wide voyage toward reduced emissions of greenhouse gasses. Professor Craig Philip, a faculty member with Vanderbilt University's Center for Transportation and Operational Resilience (VECTOR) and former CEO of Ingram Barge Company, provides this context: "The Maritime Sector has long provided shippers with the most fuel-efficient and sustainable freight transport option, and it has been very exciting for our team here at Vanderbilt to be engaged with the maritime industry, as it embraces new technologies that further also reduce greenhouse gas emissions. And we are particularly proud to be a founding member of the Blue Sky Maritime Coalition (BSMC)."
Founded in 2021, BMSC is a coalition of North American stakeholders with a specific focus on accelerating the transition of waterborne transportation in Canada and the United States toward net-zero greenhouse gas (GHG) emissions.
In July of 2022, it laid out the overall decarbonization challenges for North America. In its publication, "North American Waterborne Transportation Carbon Footprint," BSMC notes that OSVs comprise approximately 17% of the North American fleet, and are the largest single contributor to North American maritime emissions (with maritime CO2 pegged at 47 million tons in 2018), amounting to 29% of total emissions, as the vessels have relatively high fuel consumption and utilization. The second largest sector for CO2 emissions is the inland tug and pushboat sector, responsible for 9.3 million tons or 19% of total emissions; followed by the coastal and harbor tug fleet and ferries, with 6.8 million tons and 6.4 million tons respectively.
The BSMC compilations suggest that tankers and Articulated Tug-Barges (ATBs) account for just 3.1 million tons or 6% of total CO2 emissions in the North American maritime marketplace.
OSV owners invest now
Vessel owners in the OSV, tug, and workboat segments are moving now in their decarbonization efforts. Late 2022 saw an announcement from Caterpillar Marine highlighting an integrated hybrid energy effort to be undertaken with Jackson Offshore.
In announcing a Memorandum of Understanding (MOU) with the offshore operator, the engine-maker said: "The diesel-electric M/V Thunder will be upgraded with a hybrid energy solution to complement its power plant of 2 x Cat 3516 and 2 x C32 generator sets."
Lee Jackson, President and CEO of the OSV operator, said that his company "…is very excited to be partnering with Caterpillar in the development of an energy storage solution (ESS) for our offshore vessels (OSV)."
A major impetus for reducing emissions, with an emphasis on carbon, comes from customers. In the release, Jackson said, "The primary objective of this project is to generate long-term value to our clients as they seek to meet their carbon emissions reduction initiatives."
This was echoed at a late November 2022 Marine Money event held in New Orleans; panelist Shane Guidry, CEO of Harvey Gulf International Marine, discussing the company's report detailing 2021 progress on ESG (Environment, Social, Governance) said "We issued [the ESG report] because that's what our customers wanted."
On the same panel, Todd Hornbeck, CEO of Hornbeck International, which issued a similar report, said: "Our industry has always done ESG."
Panel member Quintin Kneen, the CEO of listed company Tidewater offered a different slant, saying: "Our capital investors are all asking about it because their investors are asking about it…the push towards renewables is here to stay."
OSVs plot a new course
The new directions for offshore vessels can be seen from the experience at Harvey Gulf, and its related companies. BSMC, in its July 2022 White Paper, wrote that: "Alternative fuels are the number one factor that can drastically impact the emission profile of an engine."
Just five out of the 1,664 OSVs operate on clean fuel technology in the U.S., and all of them are owned and operated by Harvey Gulf International Marine.
Harvey Gulf's 'green fleet' utilizes LNG and Bio-LNG as the main fuel sources.
At a June 2022 Marine Money event, Dain Detillier, who runs Harvey Gulf's Q-LNG bunkering business, stressed the importance of measuring actual emissions, described the experience with bio LNG in fueling Harvey America (with one part animal waste mixed with five parts LNG) saying: "It became the first carbon neutral vessel in the United States."
Harvey Gulf is also the only operator in the world with Tri-Fueled (Battery/LNG/ Diesel) OSVs.
In its 2021 ESG report, detailing savings from using LNG, Harvey Gulf says, "In the early stages of analysis, we have shown savings of nearly 130 metric tons of CO2" [compared to diesel operation, on a monthly basis].
The report also details Harvey Gulf's pioneering moves in energy storage, noting that its Harvey Champion was the first OSV to be battery-powered, in 2020, and its Harvey Energy was the first to be tri-fueled (diesel/LNG/battery).
Harvey Gulf and Hornbeck have both been working closely with SailPlan. SailPlan's Captain Steve Bomgardner, Director of Business Development, when speaking at the recent autumn 2022 conference, reiterated the need for actual measurement of emissions, rather than approximations, in optimization. Fellow panelist, David Cummins (President and CEO of the BSMC) talked about Harvey Gulf's experiences, noting that after fitting SailPlan kit aboard Harvey Power, it realized that "station-keeping" was actually its biggest source of emissions.
Bomgardner, describing experiences with one customer's dual-fuel vessels, detailed a finding where running on marine diesel, rather than LNG operation, led to reduced carbon emissions in a particular circumstance.
The message from Bomgardner and Cummins was that actual readings, rather than formula-based estimates, are key for optimizing fuel usage.
The American Bureau of Shipping (ABS), in a report developed around data from Vanderbilt University's VECTOR, looked closely at the inland sector, with findings relevant to offshore vessels. It offered that electrification, with its need for recharging, made sense in fleet boats and towing vessels not working continuously.
The authors noted that: "Biofuels and methanol are feasible non-fossil fuel alternatives because they can be used in some existing marine engines and are supported by current infrastructure."
In looking at the "energy density" of alternative fuels, the report points out: "Only biofuels can be currently stored and used in existing onboard fuel tanks and would provide nearly equivalent power."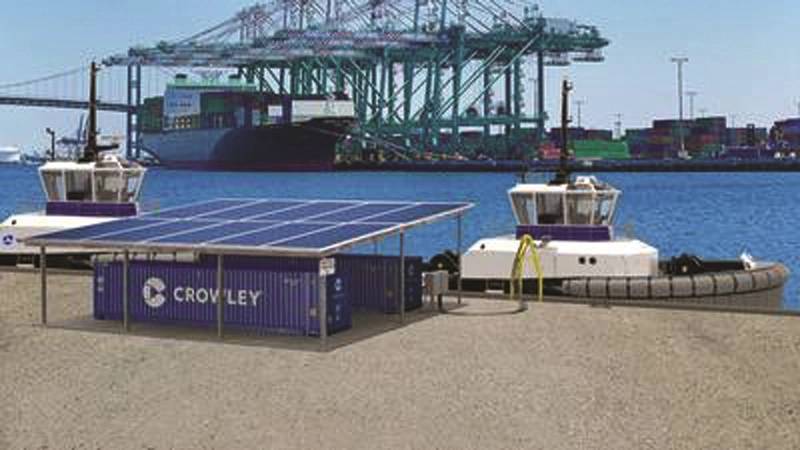 eWolf (Image: Crowley)
One shipyard, Master Boat Builders (MBB), has been at the forefront of the push towards electrification in the workboat sector. In the spring of 2022, the Coden, Alabama yard, delivered a hybrid (Caterpillar diesels and generators) tug to Seabulk Towing, with a design from Robert Allan Ltd.
The vessel, Spartan, which can operate using the Tier 4 main engines, generators, or both- linked to propulsion motors from ABB, has been doing escort work along the Texas Gulf Coast; a second vessel has also been commissioned.
Also under construction at MBB is eWolf, an all-electric tug scheduled for delivery to Crowley later in 2023.
The boat, with a 6.2 MWh battery developed by Corvus Energy and integrated into an ABB electric propulsion system, will be deployed in San Diego, handling ship assists.
Shoreside charging will be done through a pair of Corvus Orca BOBs (the Corvus battery, housed in a 20' container), at quayside when the tug is between jobs. The ABB piloting kit (which could support future autonomous operation) links to a pair of L-Drive azimuth thrusters.
Methanol & hydrogen
Methanol and hydrogen have been touted as "future fuels," though, the future is happening quickly with the "e-1" methanol to hydrogen generator developed by Element 1, an Oregon-based small-scale, manufacturer of advanced hydrogen generation systems.
Importantly, a lead investor in the company's e1-Marine division is Maritime Partners LLC, a financier (and owner and lessor) of vessels serving the inland sector.
e-1 Marine has been actively marketing a technology where hydrogen fuel cells, which generate electricity similar to batteries, are fed hydrogen produced by a proprietary onboard system "…where methanol is stored in conventional tanks and water is added on-the-go."
Maritime Partners will be the owner of Hydrogen One, a tug designed by Elliott Bay Design Group, to be built at Intracoastal Iron Works near Houma, La., which will deploy the technology. The boat, to be equipped with electrical power distribution and automation technology from ABB, will be chartered to American Commercial Barge Lines (ACBL). Its development team says that the vessel (with economics comparable to a newbuild with a Tier 4 diesel powerplant) could operate over four days in between refueling of methanol, which they suggest is readily available.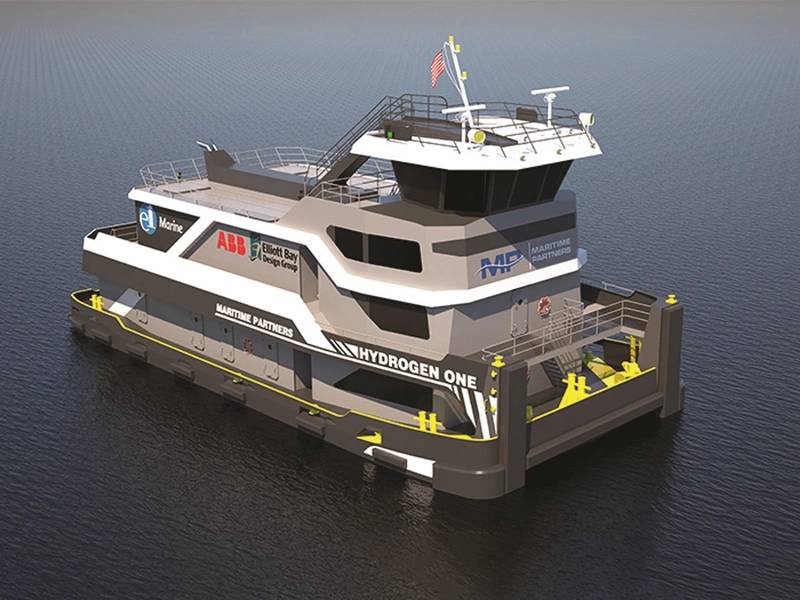 Hydrogen One (Image: Elliott Bay Design Group)
The naval architects at Glosten, working closely with ABB, have developed a design (referred to as SA-100) for a harbor tug with L-Drives, powered by methanol-fueled gensets, or, alternatively, by batteries. Zero emission operation would be possible in the battery mode (which could also be used for peak shaving); the batteries can be charged from the gensets, eliminating the need for lengthy times alongside the quays.
The offshore wind segment, driven by efforts to reduce emissions, with its new fleet of vessels, will be a showcase for alternative fueling technologies.
Empire Offshore Wind, a joint venture between Equinor and bp developing a windfarm in the New York Bight, south of Long Island, has awarded a lengthy charter on a service operations vessel (SOV) to Edison Chouest Offshore (ECO), which will be building the vessel at its Gulf Coast yards.
According to Equinor, "the plug-in hybrid service operations vessel (SOV) will be the first in the US offshore wind sector capable of sailing partly on battery power."
The SOV will sail into the port of South Brooklyn Marine Terminal on battery power, recharge the battery using shore power and sail out of New York Harbor."
Operating under a 10-year charter (with an optional renewal), it is expected to begin service in the mid-2020s.
Fincantieri's Bay Shipbuilding, Sturgeon Bay, Wisconsin, will be building a new SOV for CREST Wind, a joint venture between Crowley Maritime (which will operate the vessel), and the Danish offshore specialist ESVAGT. Diesel-electric powered thrusters have been part of the HAV 832 SOV design, utilized by Esvagt in the North Sea and Baltic regions.
In the more distant future, offshore wind turbines might be used in the production of "green hydrogen", which, in turn, would support production of other green fuels.
Planners have already set their sights on using these fuels to power vessels that serve the wind sector.
Wind turbine maker Siemens Gamesa, which will be chartering the CREST Wind SOV, to be delivered in 2026, in a long-term deal, for work in Dominion Energy's Coastal Virginia Offshore Wind project, sums it up in a recent whitepaper, saying: "Green hydrogen and derived fuels, such as green ammonia, will allow us to put wind power into the fuel tank of a … ship."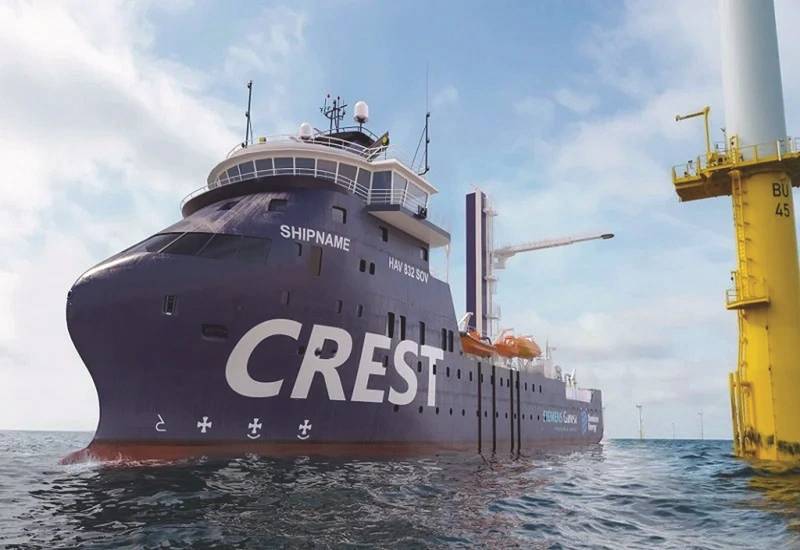 (Image: Crowley)