X-Press Feeders Orders Eight Dual-fuel Methanol-powered Containerships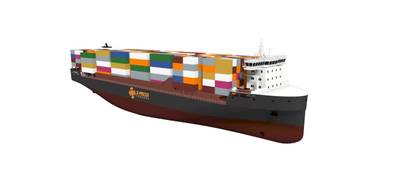 Eastaway, a subsidiary of Singapore-based X-Press Feeders Group, has ordered eight dual-fuel, methanol-powered containerships.
The order, which was reportedly placed with Chinese shipyards, includes options for additional ships. The first of the new 1,170 TEU vessels will be delivered in late 2023, and all ships are scheduled to be operational by the end of 2024. .
X-Press Feeders said it will operate the ships in its Europe and America trade routes.
The new containerships have been designed by naval architects TECHNOLOG Servies GmbH. Each will be outfitted with dual-fuel engines capable of operating on regular bunker fuel or green methanol.
"The vessels will align with our practices of environmental stewardship to achieve carbon-neutral shipping by 2050. Moreover, they will help us move closer to the target of operating their first 'zero-emission ready' vessel by 2025," X-Press Feeders said.
Shmuel Yoskovitz, our CEO, said, "We are very excited to welcome these ships into our European and Americas network. These newbuild vessels will provide cutting-edge technology to deliver a balance of environmental sustainability and operational excellence. X-Press Feeders is committed to maintaining an eco-friendly approach to expanding and modernizing our global operated fleet."