Production Times On Marine Bearings Reduced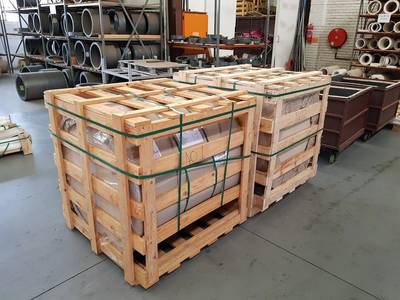 Vesconite Bearings has brought production times on extra large bearings down to 36 hours and was able to complete a simultaneous order for two extra large marine bearings in 48 hours in late September.
Last month's quick turnaround order was for two superstave bearings, which are bearings made from plates that are cut and milled and made from the polymer Vesconite, which is a self-lubricated, no swell, engineered plastic that is used widely for rudder bearings and stern tubes.
The bearings that were produced were large, with one weighing 295kg and another weighing 335kg.
Since these bearings had to be completed and delivered to a client urgently, the ordinary lead times that Vesconite Bearings gives clients (i.e. of 4 days) needed to be halved.
The company believes that it is now able to compete with any producer of marine bearings globally i.t.o. its production time at present, and that it will become a supplier of choice for many companies, which can incur significant costs if a ship is in a dry dock for considerable periods waiting for required replacement bearings.
Despite its ability to compete globally with other manufacturers, Vesconite Bearings is aiming at bringing its production times of these large bearings down further, and intends producing extra large bearings in 24 hours in a couple of months.