Proman Stena Bulk Names Methanol-fueled Tanker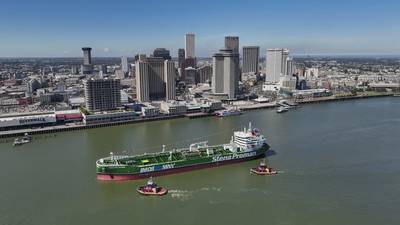 Proman Stena Bulk, the joint venture between tanker company Stena Bulk and methanol producer Proman, formally christened its methanol-fueled tanker Stena Pro Marine during a ceremony at the Port of New Orleans.
Delivered in mid-2022, the newbuild is a 49,990 DWT dual-fuel mid-range (MR) tanker constructed at Guangzhou Shipyard International Co Ltd (GSI) in China. The ship has been in full-time operation since its delivery and consumes 12,500 tonnes of methanol annually.
Burning methanol onboard eliminates local pollutants like SOx and particulate matter (PM), reduces NOx emissions by 80%, and lowers CO2 emissions by up to 15% on a tank to wake basis compared to conventional marine fuels.
David Cassidy, chief executive of Proman, said, "Stena Pro Marine has already proven to be a significant addition to our fleet since its delivery in the middle of last year. Given the region's importance to global energy supplies, we are thrilled to name this vessel in New Orleans, and this event provides us with a wonderful opportunity to gather with partners, friends, and industry leaders and reaffirm our commitment to supporting and enabling a sustainable shipping industry."
Erik Hånell, president and CEO of Stena Bulk, said, "The naming ceremony for Stena Pro Marine comes as yet another marker on our shared journey with Proman to prove the viability of methanol as a marine fuel. By gathering in New Orleans, a key hub on the U.S. Gulf Coast, we show to U.S. and global shipping that methanol is technically feasible as a marine fuel today. We look forward to furthering our collective vision for methanol within the maritime industry."
The large volume of methanol storage and production facilities in the Houston and Louisiana region offer access to storage, and substantial volumes of methanol; underscoring the opportunity for the region to become a major methanol as a marine fuel hub.
Earlier this year, Proman Stena Bulk completed the first ever barge-to-ship methanol bunkering on the U.S. Gulf Coast.