PSV Retrofitted for Hybrid Operation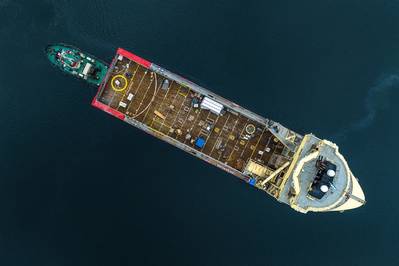 Skansi Offshore's platform supply vessel (PSV), Kongsborg, has had a battery hybrid solution installed that is designed to reduce greenhouse gas emissions and fuel consumption.
SEAM delivered, and was the system integrator of, its hybrid solution, the e-SEAMatic® BLUE. The 1800kVA/620kWh system was installed in a dedicated pre-built deckhouse, complete with necessary auxiliary systems – significantly reducing the installation time onboard the vessel.
The objective of this integration was twofold: a significant reduction in fuel emissions, as well as minimizing maintenance costs by operating with fewer engines.
Anticipated fuel and CO2 savings with their new hybrid solution‍ during sailing are around 4-5%. For dynamic positioning operations, 20-25% is expected. The hybrid system will also support shore power, allowing the ship to perform energy-intensive operations without firing up the generator set.
The hybrid solution was interfaced with existing IAS/EPMS systems on board, in partnership with existing suppliers.
"When system integrators and third-party suppliers come together, we can leverage shared knowledge, resources, and innovation capabilities, opening our eyes to breakthroughs that might otherwise be missed. This accelerates the transition to greener practices but also standardizes sustainable measures across the sector," says project manager at SEAM, Jarle Hemnes.
"At Skansi Offshore we always strive to make improvement on our vessels that can lead the way for a more sustainable and greener maritime future. The Skansi Offshore vision is based on three main pillar that define us as a good company, one of them including our focus on sustainability and environment. We are very pleased with the state-of-the-art Hybrid system that SEAM has provided, and that they share the same passion and vision for a greener and more sustainable maritime industry as Skansi Offshore. We would like to thank SEAM and all the other key collaborators for a great collaboration when installing the battery and hybrid solution onboard, and we are looking forward to more collaboration in the near future," says Chief Technical Officer at Skansi Offshore, Johan Sigurd Fjallsá.