Rolls-Royce to Equip Baydelta's New Hybrid Tug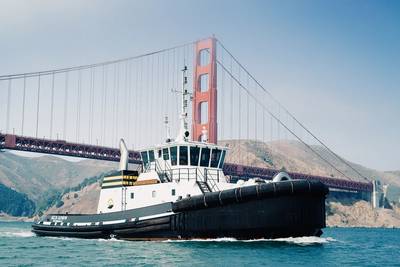 Rolls-Royce said it will supply a hybrid propulsion arrangement for installation to a multipurpose tractor tug being built for Baydelta Maritime LLC at the Nichols Brothers Boat Builders shipyard in Washington State, U.S.
The 100-foot long tug is due for delivery in the first quarter of 2019, and will feature the same ship assist and tanker escort capabilities of existing Delta Class harbor tugs but with improved towing performance. Rolls-Royce said its hybrid system enhances the vessel's escort capability, enabling the tug to provide support for assisting the ultra-large containerships that operate from U.S. West Coast ports.
Rolls-Royce will supply all electric motors, shaft generators and a power management and control system. The hybrid arrangement provides power to US 255 azimuth thrusters with ducted fixed pitch propellers that can be rotated 360 degrees around the vertical axis. This arrangement optimizes omni-directional thrust and maneuverability as well as providing improved crash stop capability.
The tug will be powered by two Caterpillar C3516 C Tier 3 diesel engines, each rated at 1,995 kW at 1,600 rpm, and by two Rolls-Royce supplied 424 kW electric motors. The two Rolls-Royce 255 units can accept power from the diesel engines, electric motors and from both power sources. The electric motors are powered by three CAT C9.3 generators with 300 kW each, which are 480V three-phase at 1,800 rpm, and one harbor generator, a C7.1 150 kW 480V, three-phase at 1,800 rpm.
According to Rolls-Royce, the order represents the first hybrid tug using Rolls-Royce hybrid technology, the
first installation of a hybrid system for Nichols Brothers
and the first hybrid tug designed by Jensen Maritime, Crowley Maritime Corp's Seattle-based naval architecture and engineering firm.
Erik Larsen, Rolls-Royce, Vice President – Tug and Fish, Americas, said, "Baydelta Maritime is a long-standing customer for Rolls-Royce, but this order is of particular significance because it marks our first Rolls-Royce Hybrid System for a tug. The tug will provide improved fuel efficiency and emissions. It shows this market, that the Rolls-Royce portfolio extends way beyond our U.S.-type azimuth thrusters, the propulsion system of choice for this segment."
Rolls-Royce and Baydelta have been working together since 1990s, when the San Francisco -based operator specified its first azimuth thrusters. Since then Baydelta's entire fleet of tractor tugs is equipped with drive units.
"Our US 255 azimuth thrusters are ideally suited to provide the maneuverability and bollard pull needed for operations in larger harbors, terminals and escort applications. One of the reasons for success is the product's ability to provide bollard pull of more than 90 tons," Larsen explained,
"The key benefit operating these thrusters in a hybrid configuration is that it reduced the power requirement. Typically, a tug of this size would need a power output 2,500 kW. The hybrid arrangement allows operators to achieve the required bollard pull from a smaller engine. It provides greater operational flexibility."
Peter Zwart, VP of Operations, Baydelta Maritime, highlighted the maintenance benefits of the Rolls-Royce system: "We started building this current class of tugs in 2007 and now all our tugs have Rolls-Royce thrusters, the US 255. We know that with proper maintenance they last a long time, hopefully up to 15 years without a major overhaul."
Commenting on their operational performance, Mark Barnum, Captain, Baydelta Maritime, added, "In San Francisco Bay containerships can enter at high rates of speed to maintain maneuverability and Rolls Royce thrusters are very responsive. We can go from full ahead to full astern in under 30 seconds. They also allow us to provide pilots with high tonnage breaks to prevent anything from happening during maneuvers."
The new tug Jensen Maritime has designed for Baydelta will be capable of a 90 short-ton bollard pull and capable of carrying up to 71,000 gallons of fuel, 4,300 gallons of fresh water, a large pilot house will provide all-around visibility, and the deckhouse has an open feel with a large mess and lounge area along with accommodations for a 8-person crew.
Bryan Nichols, Director Business Development, Jensen Maritime, said, "The development of this new tug demonstrates our commitment to innovative, environmentally friendly design while continuing to deliver powerful, high-quality performance. This tug will meet the industry's demand for strong, yet nimble vessels with the quality design people expect from us."