Rolls-Royce to Showcase MTU Yacht Innovations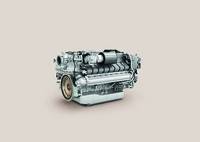 Rolls-Royce said it will showcase several innovations designed for the pleasure craft market at the 2015 Miami Yacht & Brokerage Show, February 12-16.
The MTU exhibit will feature Premium Yacht Service, a global, 24/7 support offering provided under the MTU ValueCare brand, the recently unveiled MTU Series 2000 M96 pleasure craft engine and the company's newly available Joystick System. MTU will be located at Ramp 15, Slip 404 along Collins Ave in Miami Beach.

MTU's Premium Yacht Service streamlines the full range of MTU ValueCare products into one customizable, tailor-made package. Show attendees will be able to learn about the suite of dedicated service and support offerings including a best in class Extended Propulsion Coverage for protection beyond the standard warranty, annual inspections and professional training for customers and their partners to ensure optimal performance and reliability on the water.

The latest pleasure craft engine technology from MTU, the Series 2000 M96 continues the company's long tradition of reliable and efficient high-performance yacht engines.

Offering enhanced acceleration and low fuel consumption, the EPA Tier 3 Recreational certified engine is available in 12-cylinder ratings from 1700 bhp to 1920 bhp and 16-cylinder ratings from 2185 bhp to 2600 bhp.

Boat show attendees can also experience the newly available Joystick System from MTU, while controlling a virtual yacht. An optional extension of MTU's control and monitoring system, Blue Vision New Generation (BVNG), the MTU Joystick features the following advancements in technology:
Intuitive maneuverability – complex maneuvers are made more convenient by automatically and cleverly managing all the propulsion and thruster systems.
Thruster Compatibility – wide range of electronic or hydraulic OEM supplied thruster units; proportional control capability; joystick operating mode for thruster only control.
GPS-based Station Keeping – automatically remain stationary with a sophisticated GPS-based system.



• Rolls-Royce • Miami Beach • Environmental Protection Agency