Wärtsilä Extends License Agreement With Hyundai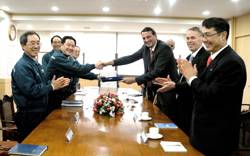 Wärtsilä, a marine industry solutions provider, and its South Korean partner, Hyundai Heavy Industries, Engine and Machinery Division, have signed a ten year extension to their license agreement to build Wärtsilä low-speed engines. The agreement was signed at a ceremony held on February 28, 2012, in Ulsan and covers the period from 2012 to 2021.
Hyundai Heavy Industries (HHI) has through its Engine and Machinery Division been a licensee of Wärtsilä since 1975. During these 37 years, the total power volume of the Wärtsilä licensed engines built by HHI exceeds 22,800 MW. Under the terms of the newly signed agreement, HHI is licensed to manufacture and sell the full range of Wärtsilä RTA, RT-flex, and X-series low-speed marine diesel engines within its specified territory.


• Hyundai Heavy Industries • W??rtsil??