Wärtsilä to Supply Methanol Dual-fuel Engines to New Edge Series Cruise Ship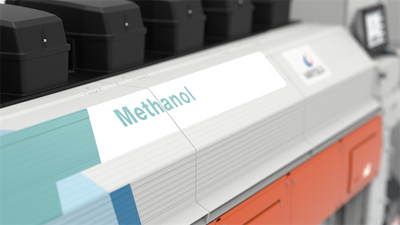 Wärtsilä will supply methanol dual-fuel engines for Celebrity Cruises' latest ship, the fifth vessel in the company's Edge Series.
The OEM will convert two Wärtsilä 46F engines to allow them to utilize methanol as fuel - the second such conversion it has undertaken and the first for this engine type. By adding methanol as a fuel option, emissions of sulphur oxides (SOx), nitrogen oxides (NOx) and particulate matter are significantly reduced.
The full Wärtsilä scope includes two 8-cylinder Wärtsilä 46F engines capable of operating with methanol as fuel, two 12-cylinder Wärtsilä 46F engines, and one Wärtsilä 32 engine. Wärtsilä will convert the 46F engines to run on methanol at the yard, prior to commissioning.
Laurent Castaing, General manager of Chantiers de l'Atlantique shipyard says "Development and integration of methanol systems on a cruise ship is a new challenge for Chantiers de l'Atlantique and, for the first time, is part of our decarbonisation program."
The incorporation of methanol-ready engines represents a next step towards achieving Destinations Net Zero for Celebrity Cruises. Its vision is for net zero emissions by 2050.
"With the launch of our Edge Series of ships in 2018, we set ambitious sustainability goals to make these ships the most energy efficient large vessels at sea," said Celebrity Cruises President and CEO Lisa Lutoff-Perlo. "Working collaboratively with our expert partners, we have continued to develop new technologies and achieve breakthroughs with each subsequent ship."
The latest ship is scheduled for delivery from Chantiers de l'Atlantique (CdA) shipyard in 2025.