Sanmar Shipyards Delivers First ABS-classed Battery Electric Tug to HaiSea Marine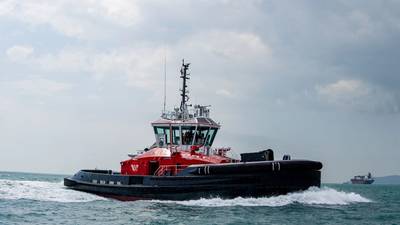 Sanmar Shipyards delivered its first battery electric tug to ABS class for Canada-based HaiSea Marine, a joint venture partnership between the Haisla First Nation and Seaspan ULC.
The HAISEA WAMIS harbor tug, the first in its ElectRA 2800SX series, will be part of a fleet of harbor and escort tugs providing services to LNG Canada's future terminal in British Columbia and is equipped with two steerable, fixed pitch (FP), azimuthing, L-drive propulsion units powered by electric motors integrated on top of each unit.
The tug's fully electric propulsion system is supported by its innovative battery energy storage system.
"ABS is a leader in the marine industry for supporting and enabling the electrification of assets. Hybrid electric power systems offer the opportunity to improve safety, reliability, operational efficiency, and reduce the fuel consumption, environmental footprint, and equipment maintenance when compared to traditional electrical power systems," said Vassilios Kroustallis, ABS Senior Vice President, Global Business Development.
"We were pleased to work with all of our partners to deliver this state-of-the-art, fully electric harbor tug. We appreciate the critical role ABS played, providing class services and supporting safety throughout the design and construction," said Hakan Tunc, Engineering Director of Sanmar Shipyards.