Sembcorp Marine Names LNG Hybrid Tug in Singapore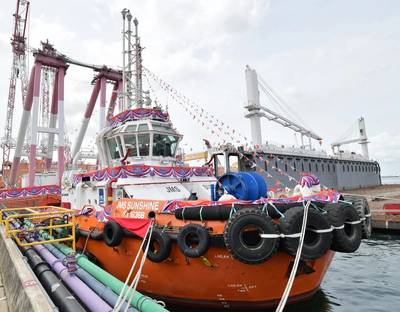 Sembcorp Marine celebrated the naming of JMS Sunshine, its first of a series of LNG hybrid tugs specially designed for domestic service in Singapore.
Sembcorp Marine commissioned the design and build of the world's first LNG hybrid tug in 2018, and the company plans to build a fleet of tugs to progressively replace the existing diesel-powered fleet operated by Jurong Marine Services (JMS), a wholly owned subsidiary of Sembcorp Marine Ltd and a licensed operator of the Maritime and Port Authority of Singapore.
The Singapore-flagged JMS Sunshine is designed by LMG Marin AS, a wholly-owned subsidiary of Sembcorp Marine. The tug is classed by ABS (America Bureau of Shipping) and has a Cyber Secure 1 notation.
The first of its kind, JMS Sunshine runs on pure LNG with a sizable energy storage system based on lithium ion battery. This system allows emission-free operation of the tug during idling and low speed transit. It is capable of taking over the energy needs if a spike in power is warranted, and comes equipped with a "take-me-home" reserve capacity to ensure safe return of the tug in the event of engine failure.
When delivered, JMS Sunshine will be deployed in Sembcorp Marine yards for ship maneuvering, mooring and unmooring operations. It can also be deployed by ship operators to escort vessels within Singapore port limits.