Tank Barge Launched for TY Offshore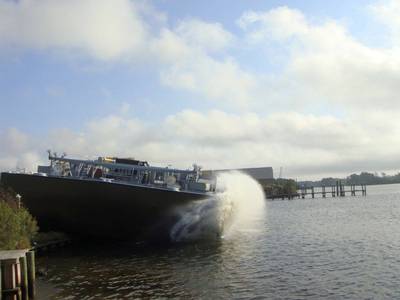 TY Offshore Launches FMT 3248, the fourth of fourteen FMT Industries Barges built at TY's Gulfport, Mississippi facility.

TY Offshore, LLC announce the launch of FMT 3248, the fourth of fourteen 297'6" x 54' x 12', 30,000 barrel tank barges for FMT Industries, LLC, one of the several companies within the Florida Marine Group (Florida Marine). FMT Industries has recently exercised its option for four additional barges from its original order of ten. Additional barge launches follow on at thirty day intervals.

TY Offshore continues to set a remarkable pace with builds, orders and milestones:
John Dane III Featured as Shipyard Day Keynote Speaker at last week's WorkBoat Show
Total of five (5) Harvey Gulf International 302' x 64' (92m x 19.5m) Dual Fuel Supply Vessels, Harvey Gulf having exercised its option for two additional DFSVs from its original order of three .
Four of a total order of ten 90' (27m ) MK V patrol boats are also under construction, six having already been delivered
In early 2012, TY Offshore delivered two Signet Maritime Corporation 100' (30.48m) RAstar 3100 Class Terminal Support/Escort Tugs
In response to the BP oil spill, TY Offshore delivered a total of twenty-three oil recovery vessels.
• Mississippi • Harvey Gulf • John Dane III