Tech File: New Cylinder Pressure Sensor Helps Optimize Large Engines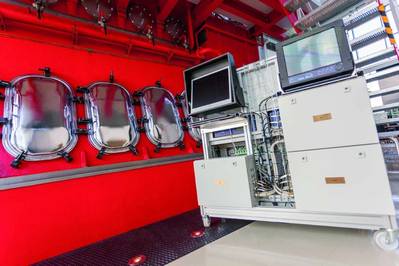 The shipping sector is constantly striving to optimize the efficiency of large engines. This endeavor calls for new approaches and innovative products. Each percentage point of efficiency gained here has an immense impact on fuel consumption and emissions. Kistler responds to the trend toward higher cylinder pressures in engines (up to 300 bar) with its rugged, accurate and durable measurement systems.
Optimized pressure measurement methods save fuel
The efficiency of large engines such as those used on commercial vessels can be increased with the help of cylinder pressure sensors that precisely monitor the combustion process. There is a growing trend toward gas and dual-fuel engines (diesel and gas) alongside the conventional diesel engines that are already widely in use. These alternative engine types are intended to enhance environmental compatibility while reducing fuel consumption as well as CO2 emissions. But there are other consequences of their use, too: combustion processes are becoming more complex, and they need to be controlled with the help of cylinder pressure measurement (CLCC – Closed Loop Combustion Control). Monitoring of combustion processes pinpoints possible ways of optimizing cylinder pressure. For example, an increase of 1 bar in peak pressure can reduce fuel consumption by as much as 0.2-0.25g/kWh.
For over 20 years, the Kistler Group's Marine & Stationary Division has offered components and systems that use cylinder pressure measurement as the basis for optimizing large engines, also including those used for energy production. Kistler's portfolio of solutions ranges from regular engine diagnostics and ongoing operational monitoring to customized sensors for CLCC systems.
The top priorities in large engine development include cutting fuel consumption and monitoring the combustion processes. Numerous large engine manufacturers, shipbuilders, shipping companies and power plant operators put their trust in the combustion monitoring expertise Kistler has accumulated over many years.
Robust and highly accurate
The Type 6635A1 high-performance cylinder pressure sensor is a new addition to Kistler's specialized measurement technology portfolio. Even under high thermal loads and vibration-induced stresses, this sensor ensures highly dynamic signal acquisition with excellent measurement accuracy. Kistler's new piezoelectric sensor has a number of design features that make it ideal for use in large combustion engines. At the heart of the new sensor is an advanced development of the PiezoStar crystal with exceptional properties: for example, it can be used at temperatures of up to 350°C. The Type 6635A1 also has a patented diaphragm shaped to combine accuracy with strength. Another plus: the sharp cyclical temperature fluctuations caused by the combustion flame front are optimized with FEM (Finite Element Method) simulation, with subsequent testing and validation on the sensor. The antistrain sleeve (also patented by Kistler) ensures mechanical decoupling of the sensor from the housing, so a stable measurement signal is guaranteed even in case of higher pressures that cause deformation of the cylinder heads. A third critical design feature is the ceramic leadthrough which hermetically seals the measuring element.
Instead of a nonpositive connection, the required signal transmission in the millivolt and picoampere range is implemented via a substance-to-substance bond, so there are no moving parts such as connectors. The combination of a welded and crimped joint offers exceptional resistance against shocks, as has been clearly demonstrated in long-term tests. To carry out comprehensive validation of the new sensor, Kistler developed a special test setup for lifetime trials that allows time-lapsed tracking of the complex stresses in a large engine. The test series showed that the newly designed Type 6635A1 cylinder pressure sensor offers excellent durability with constant measurement characteristics – features that ensure long-term stability. Nevertheless, field tests with the specific engine in question are always required for conclusive validation.
Highly sensitive piezoelectric element
Since 1998, Kistler has grown its own PiezoStar crystals which are processed on the company's own five-axis CNC machines in Winterthur, Switzerland. These crystals belong to the calcium-gallogermanate family of quartz-like compounds such as langasite (La3Ga5SiO14) that offer the following characteristics:
high piezoelectric sensitivity (up to five times more than quartz)
minimal temperature dependency and highly stable characteristics
suitable for use at temperatures up to and above 800°C, no phase transition up to the melting point (above 1300°C)
no twinning
reproducible industrial-scale growing process
tried and tested in practice during use in high-grade sensors
The new generation of crystals was specifically optimized for cylinder pressure measurement. They are highly durable because their sensitivity has a very low dependency on temperature and they have a high degree of electrical insulation.

The Author

Jürg Stadler is Head of Engine Marine & Stationary at Kistler.

• energy production • Simulation • Switzerland