Tech File: Repower After Layup at the Thai Marine Department
A well-built, modern vessel can be expected to outlive her original engines. The challenge for those representing the owners, is to choose new engines that match or exceed the capabilities of the original power. Consideration will be given to replicas of the original engines. However, availability and suitability may limit this.
These were some of the considerations confronting the Thai Marine Department when they decided to put their 41.85 by 3.9-meter oil response vessel back into service. The vessel had been laid up for some time, as parts for her Wartsila CW 16V 170 original engines had become difficult to find.
After careful thought on operational demands of their 41.85 by 3.9-meter vessel Jaladharanuraksh, the Thai Marine Department selected a pair of Cummins QSK60 M engines, each delivering 2700 HP at 1800 RPM. The engines turn into new Reintjes LAF743 gears with 3.550:1 reduction. The twin shafts turn a pair of controllable pitch propellers. This is significant power, to allow the boat to function in diverse roles for rescue, firefighting, and pollution control. The boat's three big 267.5-Kilowatt generator sets will be overhauled and retained.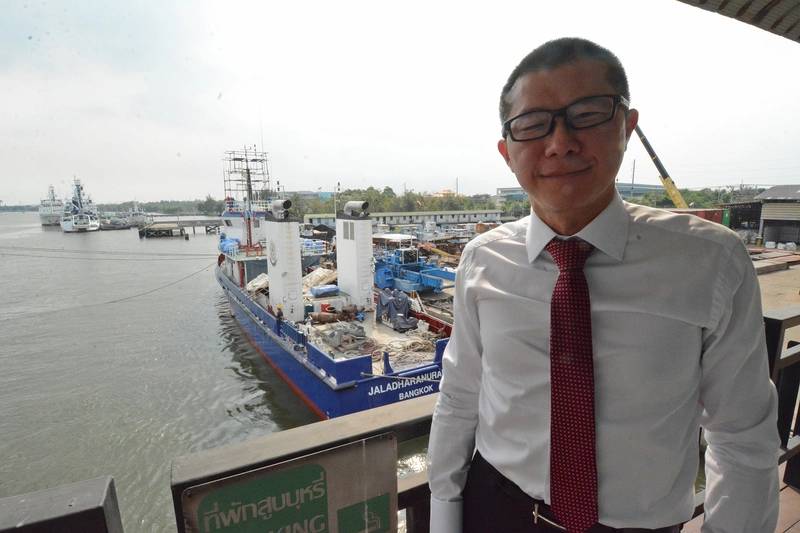 ASIMAR's CEO Suradej Tanpaibul with the Jaladharanuraksh. Image courtesy Cummins/Thai Marine Department
With an official Buddhist blessing of the new engines, the repower was completed at the Asian Marine Services PCL. (ASIMAR) Shipyard on the mouth of the Chao Phrya River near the Gulf of Thailand. With a 40-year history of ship repair and new construction, the yard's CEO Suradej Tanpaibul, can point with pride to a newly launched Robert Allan-designed ship-docking tug moored near a Panama-flagged, 137-meter, tuna, reefer ship in for a variety of maintenance and repairs. The yard has recently added a 2500 bar hydro blast system for stripping paint without the pollution associated with sand blasting.
A challenge with all repowers is to get the alignment right. With the boat out of the water in one of the yard's floating drydocks, the shafts were pulled and inspected. The newly installed engines are then aligned with the shaft tunnel with the aid of lasers. ASIMAR Project Manager Natdanai Supimars explained that, with the shafts reinstalled, the boat was returned to the water. Working inside the engine room, the shipyard team did a more precise alignment that allows for changes that affect the hull from being in the cooling water and with the full floatation support of the water on the hull.
The engines, with engineering assistance, were supplied by Cummins DKSH (Thailand) Ltd. At the same time as the new Cummins QSK60 engines were installed the wheelhouse was given some attention. All the electronics from radar to sounder and gyro were checked out and, where required, replaced with newer models.
The job is scheduled for completion by early 2023.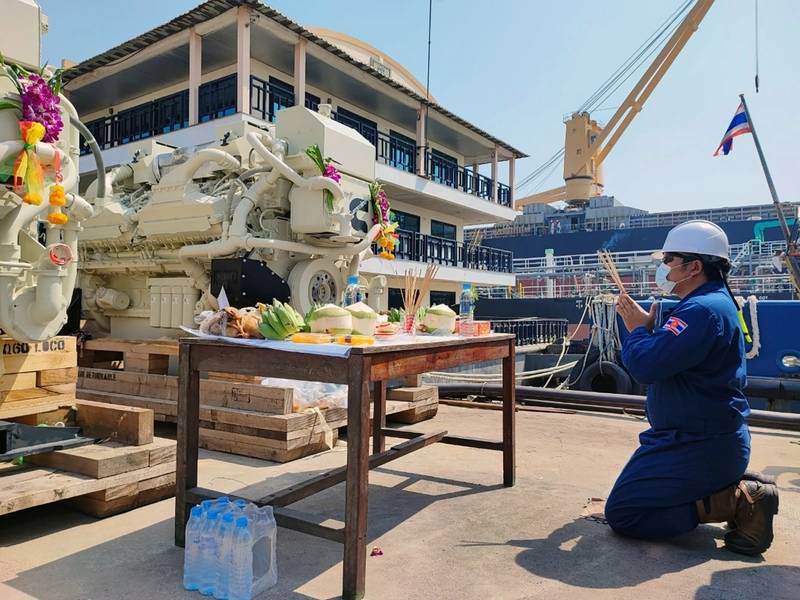 The blessing of the new engines prior to installation. Image courtesy Cummins/Thai Marine Department