Ten Smart Ship Applications for an Intelligent Future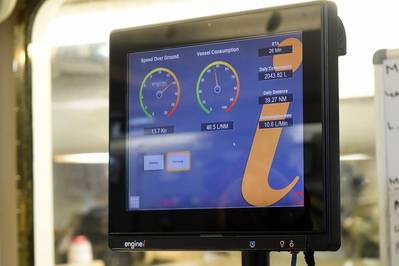 Ibna Zaman of Royston highlights the growing operational advantages provided by the effective analysis of intelligent data in the marine sector – if certain challenges can be successfully overcome.
With the impending introduction of the EU MRV Regulations forcing shipping operators to think more seriously about monitoring, reporting and verifying fuel and emissions performance, new data driven improvements have the potential to transform the shipping sector.
As its name implies, big data brings together huge volumes of information from a variety of sources and in different forms – often at high speeds. This data transformation has been made possible by the growing application and development of advanced sensor technology that enables large volumes of engine, fuel, traffic, cargo, weather and other data to be generated and collected on board a vessel.
For example, whilst manual data collection is already playing its part in effective fuel management and enhance emissions control, data based systems have the potential to considerably improve other areas of vessel optimization, asset utilization and overall performance.
For example, here are ten application areas, some of which are already firmly on the radar, which will be fundamental to a future data-driven marine sector.
Remote Sensing: Ships will be monitored continuously from remote locations. The real-time sensor data will be collected as a database and be distributed to the interested parties giving them up-to-date information on what is happening onboard.
Voyage Planning: Ship operators or charters can implement voyage planning after analyzing route, vessel performance and meteorological data. Data analytics will help to identify the most efficient route for the journey, accurately estimate arrival time and allow alternative routes to be identified to avoid any potential delays or disturbances.
Intelligent Traffic Management: Port authorities have access to the ship data for safety. Intelligent traffic management systems linking ship position, cargo and personnel information will be transferred to the port for advance planning by the port authorities in terms of monitoring potential congestion and improving cargo handling performance.
Operational Predictability: Vessel operational performance can be monitored in real-time by analysing ship performance data. Ship operators will gain the capability to predict future vessel performance against certain criteria to help in making decisions on maintenance needs.
Energy Management: Battery operated vessels have already been introduced and shipping will continue to move towards flexible and alternative energy systems. Energy production, storage and re-use will become part of the energy management system which will be operated in response to real-time data of load requirements and power availability from all sources. The system will distribute and balance ship and shore power.
Environmental legislation monitoring: Ship operators need to comply with environmental legislation including the requirement to switch fuel in emission controlled areas. New data-oriented regulations are coming in to force in the EU to monitor CO2 emissions and the system will give an indication of fuel switching as well as monitoring emissions. By analyzing historic emissions data, operators will be able to set the KPIs for individual vessels.
Vessel Safety and Security: The use of wireless sensors and extensive satellite communication systems can increase vessel safety. Sensor data analytics will provide information on vessel maneuvering to avoid collision. The inbuilt sensors on machinery will provide real-time information about their current condition; information that will be useful for crew safety.
Condition Monitoring & Predictive Maintenance: The condition and performance of engines, parts and components will be improved by analyzing asset data that is recorded during operation. Sensors help to monitor the machinery and give early warning of the need for maintenance to avoid the potential failure of engine components. This will reduce the cost of asset failures and minimize unscheduled downtime.
Performance Monitoring and Optimization: Automation expands the capability of the control of machinery and vessel optimization. A range of data measurements are required for monitoring and optimising vessel performance and access to historical data is essential for optimizing and forecasting.
Automatic Mode Detection: This capability detects the vessel's operational mode automatically based on the analysis of real time fuel consumption data alongside distance travelled. Automode systems function without human intervention and will provide a summary report of fuel consumption for the individual engines, ship running hours and emissions in different modes. Onboard and onshore staff would be able to use this information to measure the vessel operational performance and KPIs.
A data-driven maritime future
Although applications such as those listed highlight the potential for big data to bring considerable operational advantages as part of a 'smart ships' future, harnessing and analyzing this information with effective systems engineering programmes still faces a number of challenges.
In particular, there are some fundamental data related issues that will need to be overcome if marine big data implementation is to fully deliver the benefits it is capable of.
Data Transfer: Ships typically have a very large number of sensors onboard. Every sensor requires a specific communications bandwidth, so it is important to have appropriate data communication capacity for the individual sensor to transmit the information to the database. The data transfer speed may be accelerated with the help of high-tech communication systems.
Cybersecurity: This is a burning issue for any IT system. The onboard and onshore data network will need to be protected from external interventions such as piracy, viruses or terrorist attacks.
Data Quality: Low-quality data would lead to errors in interpretation and in some cases a database may not be able to keep track of all new entries.
Data Integration: Current data collection systems in the marine industry are inconsistent and often unreliable making it more difficult for data from different sources to be properly integrated for analysis.
Data Ownership: Ownership allows access to the data to read, create, update and delete entries in databases as well as allow traceability through the data lifecycle. The shipping industry has a complex supply chain, with many stakeholders including ship owners, operators, customers, port authorities, and Classification Societies. Ship operators will have access to the full set of machine data and Classification Societies will get access to data for safety or classification purposes. Port state authorities will require access to cargo and personnel information. Ownership of data is crucial, but with the scope and complexity of data increasing it will become more challenging for ship operators to distribute data ownership and associated levels of authority in the future.
Data Protection: Linked to the above, data will need to move between individual parties because of different interests. Sensitive data will probably need to be shared externally making security and privacy priorities for data protection and to maintain the data quality.
Adoption and Standards Management: The industry has to look forward, improved analytics will enable a better understanding of the hidden features and benefits of using the data it has available. However, as part of this approach the shipping industry will need to create an environment of improved and consistent awareness across the various stakeholders to adopt new technologies, tools and processes and also to regulate standards.
The Human Factor: It will become more important to increase the connectivity between the crew and shore staff in shipping companies. In the future, the data transfer between a ship and shore and from shore to ship will increase the drive towards optimal operational efficiency and safety. Ship and shore personnel will be required to undertake additional training to provide support for this.
It is clear that the shipping industry faces ever more rigorous environmental, safety and economic performance demands. In response, big data is already helping the sector to make significant improvements but there are still a number of challenges to be overcome if it is to be utilized to maximum effect.

• energy management system • energy production • energy systems