Three Ports Sign MOU on LNG Bunkering Procedures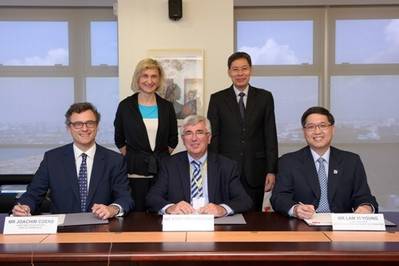 The Maritime and Port Authority of Singapore (MPA), & Belgium's Antwerp Port Authority and Port of Zeebrugge have signed a Memorandum of Understanding (MOU) on co-operation in the following areas:
To harmonise the procedures related to liquefied natural gas (LNG) bunkering in order to facilitate the acceptance of LNG bunker for shipping.
To exchange information on matters related to LNG as a shipping fuel, such as LNG infrastructure, communication to stakeholders, accreditation of bunkering operators.
To exchange information pertaining to bunkering procedures and regulatory framework.
To identify common areas of interests to set up joint research and development programmes.
The MOU, which will be in force for three years, was signed by Mr Lam Yi Young, Chief Executive of MPA, Mr Eddy Bruyninckx, Chief Executive Officer of Antwerp Port Authority, and Mr Joachim Coens, Chief Executive Officer of Port of Zeebrugge.

Mr Lam said, "Over the last two years, MPA has collaborated with industry partners to study the feasibility of introducing LNG bunkering in Singapore and to develop the procedures and technical specifications for LNG bunkering operations. Given the global nature of shipping, we are very happy to be able to work with the Antwerp Port Authority and the Port of Zeebrugge to harmonise our procedures for LNG bunkering. Such co-operation will help facilitate the development of global standards for LNG bunkering, which is needed to enable the use of LNG as ship fuel."

In 2012, the Port of Singapore recorded bunker sales volume of 42.7 million tonnes, retaining its position as the world's top bunkering port.


• liquefied natural gas • Singapore • LNG bunker