GE's Tier 4 Marine Diesel Engine Receives EPA Certification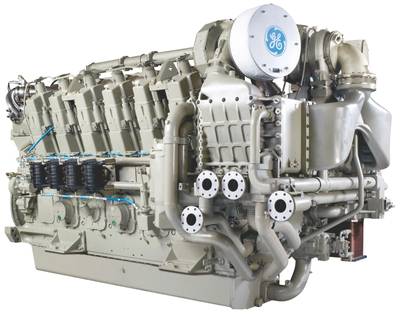 GE Marine's (NYSE: GE) 12V250 marine diesel engine received U.S. EPA Tier 4 Certification.
GE met the emissions requirements through non-Selective Catalytic Reduction (SCR) technology that requires no urea-based after-treatment. The company is also working towards U.S. EPA Tier 4 and IMO Tier III Certification for additional models and families of its marine engines utilizing the same non-SCR technology.
"Achieving this certification validates our unique ability to meet Tier 4 emissions requirements without the disadvantages of after-treatment. Our non-SCR solution provides substantial operational benefits over urea-based solutions for the workboat marketplace," said Afra Gerstenfeld, General Manager of GE Marine.
A study conducted by Jensen Maritime was commissioned by GE to compare its U.S. EPA Tier 4 and International Maritime Organization Tier III compliant in-engine, urea-free solution to a competitor's solution that requires urea based after-treatment. It concluded that, for operation on a typical line-haul tug, GE's solution:
Takes up about only 25% of the engine room space required by the competitive solution;
Weighs about only 25% of the competitor's solution; and
Does not require additional onboard equipment/storage for urea or dockside support infrastructure for urea storage and processing. GE Marine is working to achieve U.S.
EPA Tier 4 and IMO Tier III certification for its 16-cylinder V250 and 6- and 8-cylinder L250 marine diesel engine models that also utilize non-SCR technology to reduce key emissions by more than 70% without the use of urea based after-treatment.

• GE Marine • Environmental Protection Agency • International Maritime Organization