Turkish Coastguard Orders 122 Patrol Boats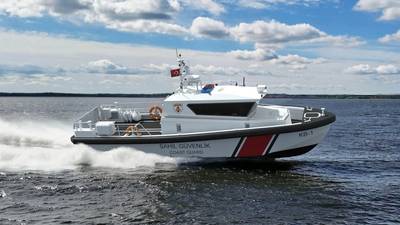 ARES Shipyard in Antalya, Turkey has been awarded a contract to build 122 patrol boats for the Turkish Coastguard.
"The project represents the largest volume serial production in Turkey's shipbuilding history, and it will certainly put a significant record in the world's shipbuilding archives as well," said Utku Alanc, CEO of ARES Shipyard.
"The project is planned to last five years and will involve construction and delivery of 122-ARES 35 FPB boats to meet the needs of the Turkish Coastguard. We will deliver six boats every two months based on our production program."
The project will see each of the 12-meter Fibreglass Reinforced Plastic [FRP] and carbon composite boats equipped with twin HamiltonJet HJX29 waterjets controlled by blueARROW. HamiltonJet's Istanbul-based distributor Nemomarin is running the project with ARES Shipyard in Antalya.
With a maximum power of 440 kW, 4% higher med-high-speed thrust, and 10% greater bollard pull than previous models, the HJX29 waterjet packs a punch. Allowing for superior control, the compact, high-performance reverse duct, and optimized JT steering system offers precise 360-degree maneuverability even at low speeds.
The border patrol vessels are the second project HamiltonJet has embarked on with the Turkish Coastguard. The first is a series of 19-meter search and rescue vessels by Damen, featuring HM571 waterjets, vessels 9 and 10 of the 15-boat series are currently in build in Turkey.
Tim Lewis, HamiltonJet's EMEA Area Sales Manager, says the positive experience and strong relationships forged during the first project has helped HamiltonJet become the preferred supplier of waterjets and controls to the Turkish Coastguard (TGC).
"We have been working in a strong partnership with TCG for several years to develop a reliable and cost-effective solution for them. We believe we understand their requirements for a propulsion system which can allow them to carry out their role efficiently with as little disruption as possible. Hamilton has proven to be the jet of choice for many clients in the Patrol and Military Sector."
Lewis says the delivery program will see the first HJX29 waterjets and blueARROW controls arrive in Turkey from mid-October.
"They'll be used to prove the design under sea trials towards the end of the year. From there, we'll send 12 waterjets every two or three months through until the start of 2024.
"Our challenge has been to get the waterjets built, installed and commissioned on schedule under the global disruption created by COVID-19, and we're pleased to say we are on track."