ZF Unveils New Azimuth Thrusters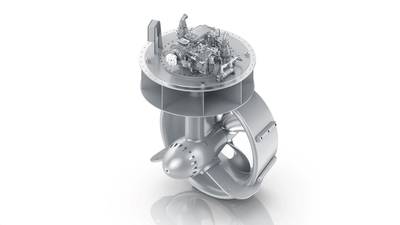 ZF announced the expansion of its azimuth thruster (AT) lineup with the new AT 90, compatible with a wide range of commercial vessels such as tugs and ferries, supporting max power of 1,978 kW / 2,651hp.
The well-mounted, Z-Drive thruster is one of the most flexible on the market, fully customizable to nearly any hull shape or vessel profile. It also supports auto-trolling. The combination with ThrusterCommand ensures precise and efficient propulsion control.
As is true of all thrusters in the AT series, the ZF AT 90 can be executed as part of a hybrid or fully electric system, requiring reduced engine power during vessel operation, full electric sailing, dynamic positioning and slow cruising while in electric mode and more.
"Whether a client is operating vessels in the inland waterways or has tugboats, ferries or any number of specialty vessels, such as dredgers, the ZF AT 90 offers significant advantages," said ZF's Walter Fienco, product manager, commercial thrusters. "In addition to this new product being adaptable to your vessel's unique configuration, ZF offers competitive delivery speeds and low life-cycle costs."
ZF AT 90 thrusters will be commercially available starting in December.