Volvo Penta Launches IMO Tier III D8 Engine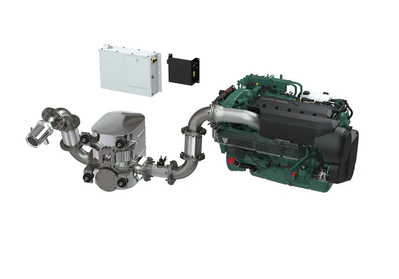 Designed for heavy duty propulsion and genset applications, Volvo Penta has revealed a D8 engine and after treatment system that meets the International Maritime Organization (IMO) Tier III at the Nor-Shipping international exhibition and conference in Norway.
Volvo Penta is launching a new D8 engine and after-treatment concept to comply with the International Maritime Organization (IMO) Tier III standards. The IMO Tier III regulation will stipulate a reduction in nitrogen oxides (NOx) emitted of around 75 per cent – depending on engine size – when compared to current IMO Tier II levels. The new emissions restrictions for vessels entering the Baltic Sea and North Sea will be implemented in 2021.
The new D8 will be certified to comply with these newest IMO III emission regulations, as well as international emissions standards – US EPA Tier 3, China 1 & 2, and NRMM IWW Stage V – making it a truly global solution. The product will be released in two steps: the first release will be IMO II, EPA, and China legislations and – in mid-2020 – the second release will result in compliance with IMO III and European inland waterways regulations.
The D8 inherits its IMO III technology from its big sister the D13, which has had widespread market success.
Controlling emissions
The NOx Emission Control Area (NECA) for the Baltic and North seas follows the NOx designation by IMO for North American and Caribbean regions and applies to most engines with an output of over 130kW. All of these areas are designated Sulfur Emission Control Areas (SECA) regulating maximum sulfur content in the fuel to 1,000 ppm.
Volvo Penta initially launched its IMO III solution for its 13-liter models, and subsequently made it available for a host of marine propulsion and genset applications. The D8 engine boasts a power output up to 313kW for inboard and auxiliary applications, and up to 265kW when used as a genset. In both roles, the reduction in NOx will go from currently permitted levels of 7.7 g/kWh down to 2 g/kWh
Optimized for marine
Volvo Penta's IMO Tier III solution has exceeded stipulated emissions limits in reducing NOx by up to 75 per cent. It is a simple robust design, with an SCR solution that has been adapted and optimized for marine customers. Exhaust gases are mixed with UREA/DEF (diesel exhaust fluid) in the SCR unit. There is a separate UREA injector pipe. The three alternative exhaust outlets are designed for marine standards and will provide customers with different possible SCR configurations, leading to ease of installation. Ease of use is also central to the design of this complete system including DEF tank and sensors to check on the quantity and quality of UREA. The system also includes a dosage pump and control unit.
Additional benefits of Volvo Penta's IMO Tier III solution for the D8:
Optimized for sulfur fuel up to 1,000 ppm.
Single box, mixed in smaller muffler.
Ability to use either 32% or 40% urea.
SCR acts as a silencer to reduce noise by up to 35 dBA.
5-inch robust bolt flanges.
Three 5-inch outlets
Smaller electric UREA pump, no air feed needed.





• auxiliary applications • Baltic Sea • Caribbean