Volvo Penta Navigating an Emerging Landscape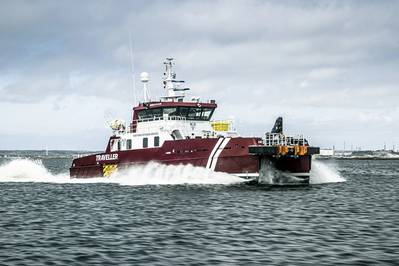 The past few months have been full of uncertainties and even as we look ahead, we don't know exactly what the future will hold. But we do know that as an industry, we'll need to prioritize and plan differently. Within the Volvo Penta organization, the team is working hard to understand how to adapt our business as the world around us continues to adjust to a changing economic and societal landscape.
As I reflect on what's transpired since the start of the pandemic, I'm proud of the professionalism and creativity shown by our Volvo Penta team in rising to the challenges.
I'll give you an example. Technical training is a critical part of our business as we ensure that a high density of skilled technicians stand ready to serve our growing marine commercial customer base. Last year alone, more than 1600 service technicians attended our in-person training sessions in the Americas. When the coronavirus hit, we had to cancel in-person sessions, but within a few weeks our team launched a new series of online instructor-led classes. We'll continue to expand these virtual offerings, conducted by our certified trainers, not just in the near-term but into the future as well. The courses will become a regular part of the curriculum, giving dealers a broad range of training options to better suit their needs.
I am also happy to report that the Volvo Group parts regional distribution centers, including the one-million sq. foot facility in Byhalia, Miss., remained in full operation. Orders were processed regularly and on-time, ensuring uninterrupted delivery of parts to our power centers, dealers, shipyards and mission critical operators in the field.
We've also placed stronger emphasis on leveraging technology to communicate with customers. We've been on the forefront of using virtual platforms for internal communication purposes for a long time now but this situation helped us discover new ways to connect with customers when face-to-face may not be an option. These techniques will no doubt remain an efficient complement to in-person meetings in the years ahead.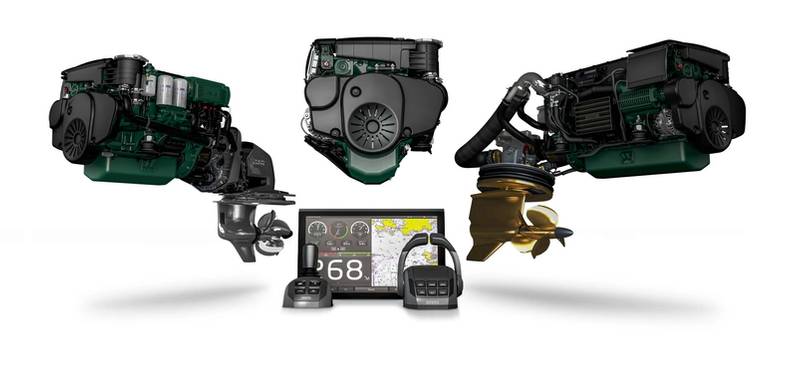 Volvo Penta's line of re-engineered D4 and D6 engines (Image: Volvo Penta)
A foundation for growth
Our commercial marine business remains resilient and has demonstrated annual growth consistently in North America. Last year the increase was attributed to a significant retrofit business as well as newbuilds.
Key market segments for Volvo Penta globally include Coast Guard and patrol boats, pilot boats, short-sea and river transport, crew and supply vessels, research vessels, passenger ferries and sightseeing vessels, workboats, tugs and towboats, self-propelled and articulated barges, commercial fishing boats and wind farming vessels. In addition, we're supplying engines to power pumps on fuel barges.
The offshore wind sector has been a core segment for Volvo Penta from a global perspective for quite some time now, with a significant presence in crew support vessels throughout Europe and beyond. We believe this proven track record positions us for success as the industry continues to develop in the U.S.
I believe we have the building blocks in place for continued success in our key commercial segments. Internally, this has been built upon innovative engineering, proven products, and a strong in-house team. Externally, our momentum has been established through an outstanding network of power centers and good working relationships with shipyards, naval architects and commercial fleet managers.
A primary driver of success is our long tradition of continuous product improvement and innovation. It's also the unique features and benefits we offer that make Volvo Penta stand out from the rest such as trademark torque, unsurpassed fuel efficiency, longer service intervals and more. A good example is the recent comprehensive re-engineering program for our D4 and D6 marine engine platform, resulting in more power and reliability and reducing operating costs by a third. The updates included redesigned engines with higher horsepower ratings, a completely new Aquamatic DPI sterndrive characterized by silent and smooth shifting, an updated IPS drive and an upgraded Electronic Vessel Control System.
Last year we also upgraded our D16 genset engines to meet the increasing market demand for more powerful marine generators.
Another key asset is our team of talented and motivated professionals. Volvo Penta was named Employer of the Year by Diesel Progress in 2019, and we were certified as a Great Place to Work by a national organization for the second year in a row. Our strategy is to hire the best people, commit to their professional growth, support them and give them the tools they need to succeed.
We also continue to build out our infrastructure of Power Centers and authorized dealers. For instance, we just appointed a new Power Center to support our growing market in Mexico.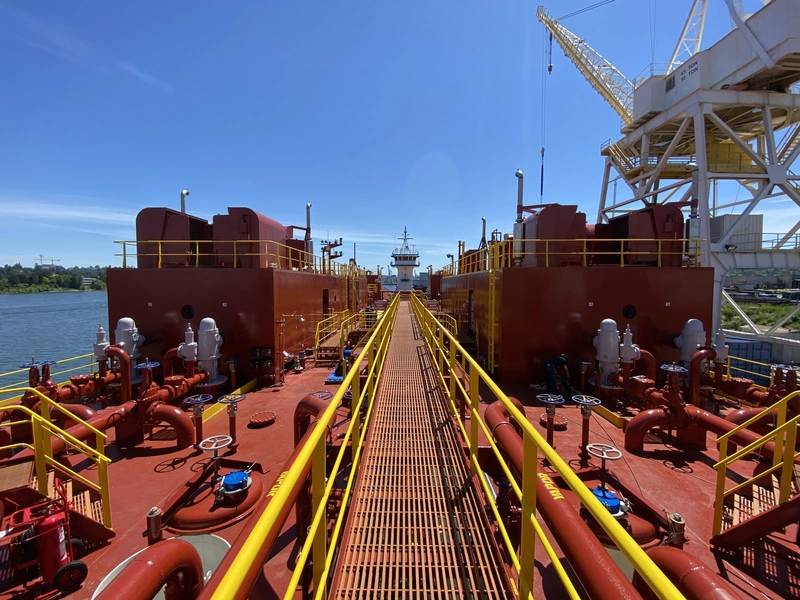 Volvo Penta diesel engines power the fuel pumps and gensets on this new ATB recently delivered to OSG. (Photo: Volvo Penta)
What's in our crystal ball?
We see several trends that will continue to impact the marine commercial industry, both in the near and long-term.
First, integration. Shipyards and vessel operators are increasingly looking for complete propulsion solutions designed, supported and warranted by a single trusted supplier with a strong local service presence. That's been a hallmark of Volvo Penta's approach through the years. We don't just make and sell engines. We make fully integrated helm-to-prop propulsion systems, and our national network of Power Centers provide a critical link between us and our customers. We also have a robust supply chain which allows us to source the most optimal components for our solutions.
Second, digitalization. The way we work, go-to-market and support customers will evolve with a growing dependence on digital forms of engagement. For a long time, we've placed an emphasis on physical communication when it comes to things like preparing our dealer network to deliver high-quality technical support in the field and handling installations. And while we're still proponents of face-to-face interaction when it becomes possible again, this situation has taught us that technology can be a valuable asset and complement for collaboration. Take for example an interesting case study from the wind farming sector on how we've adjusted as a company during the coronavirus in providing remote support for vessel launches. Amid travel restrictions, the Volvo Penta team led a completely remote installation of quad IPS units to repower Northern Offshore Services (NOS) vessel, the M/V Traveller, for operation in the North Sea.
Third, connectivity. The industry has seen an escalating demand for maritime digital services. From a Volvo Penta perspective, we see an opportunity to support increased uptime and productivity through advancements in connectivity solutions.
Finally, sustainability. The coronavirus has revealed the vulnerability and fragility of our people and societies and we believe the movement toward preserving the climate will accelerate. We've recently witnessed a positive impact on the environment as we've traveled, transported and produced less. How fast we can decrease CO2 emissions will be influenced by the way countries around the world handle legislation, with an expected increase in the regulations we've already seen impacting our industry in many ports throughout the globe. I believe we will become more conscious about protecting the environment as a whole, and that sustainability awareness will translate into more demand for environmentally-friendly product development.