VTA is now Standard for MAN 51/60DF Engine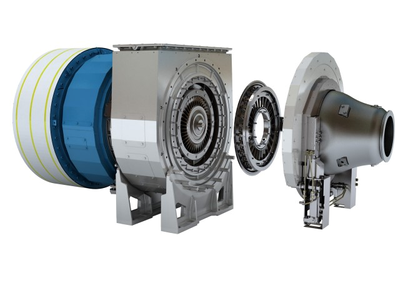 MAN Energy Solutions has announced that VTA (Variable Turbine Area) is now standard on TCA turbochargers for its MAN 51/60 engine type, marking the first time that VTA technology has been approved as standard for a large-bore MAN four-stroke engine.
MAN is the only turbocharger manufacturer to offer axial turbochargers with VTA as standard for any large-bore, four-stroke engines.
MAN Energy Solutions reports that it already has more than 380 references of turbochargers sold with VTA technology, and that VTA is approved for its TCA turbocharger sizes TCA55 to TCA88 – both for marine and power applications.
VTA benefits
Under the VTA concept, the volume of charge air can be precisely matched to the quantity of injected fuel at all points in an engine's load and speed range. This has several benefits, including:

• significant fuel savings
• improved dynamic performance
• fuel flexibility: smart control management means engine adapts itself automatically to get to best possible operating point
• range extension: it includes elevated ambient temperature without de-rating
• peaking balance: handles load fluctuations.

MAN Energy Solutions reports that the typical payback period for VTA on MAN engines will be one-and-a-half to two years, and that its next step is to make VTA standard for its MAN 51/60G engine type. It also states that its PrimeServ Academy has already increased the VTA training portofolio, due to its rising importance, citing the new VTA-VacSeal four-stroke course that was introduced in September 2018 as an example of this.