Wallenius Wilhelmsen Orders MAN Engines for Dual-Fuel Car Carriers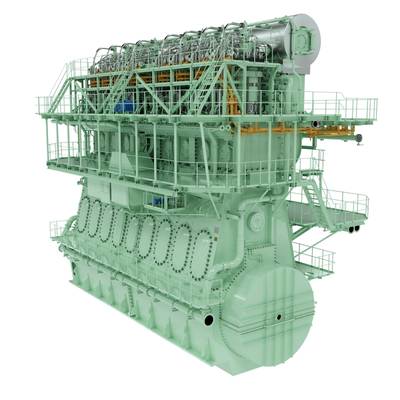 RoRo shipping company Wallenius Wilhelmsen has ordered 4 × MAN B&W 7S60ME-C10.5-LGIM (Liquid Gas Injection Methanol) dual-fuel engines capable of running on green methanol in connection with the construction of four pure car/truck carriers (PCTCs).
The 9,300 CEU (Car Equivalent Unit) vessels will be built in China at the Jinling Shipyard (Jiangsu) and are scheduled for delivery from mid-2026 on. The order contains options for a further eight such vessels.
Xavier Leroi, EVP & COO Shipping Services, Wallenius Wilhelmsen, said: "We are securing our position as our customers' first choice in shipping and delivering on our strategy to provide a net-zero, emission-free, end-to-end service by 2027. We believe that methanol is the fastest way to net-zero emissions."
Bjarne Foldager, Head of Two-Stroke Business, MAN Energy Solutions, said: "Methanol is gaining momentum within the PCTC segment off the back of strong Chinese car-manufacturing figures and the introduction of new emission regulations. Within the segment, Wallenius Wilhelmsen is a major player and one of the first movers to methanol based on its own journey towards net zero. We fully expect methanol to figure prominently as a future fuel across vehicle carriers and, indeed eventually, all vessel segments."
Thomas S. Hansen, Head of Promotion and Customer Support, MAN Energy Solutions, said: "This will be the second newbuilding project within the PCTC segment that features our S60-LGIM engine. The shipping industry is showing an increasing interest in decarbonisation by operating vessels on green methanol and these engines will provide significant emission reductions. The ME-LGIM concept is proven and still the only such concept that has entered commercial operation. Currently, our total ME-LGIM orders stand at over 150 engines. This includes more than 23 already in operation and that have accumulated more than 500,000 running hours since first entering service in 2016."