Washington State Ferries Awards Vigor Contract to Convert Its Largest Vessels to Hybrid-electric Power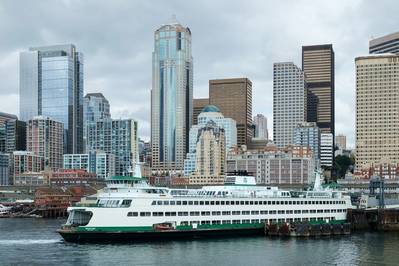 Washington State Ferries has tapped local shipyard Vigor to convert up to three of its Jumbo Mark II class ferries to low-emission hybrid-electric power.
Vigor's $150 million winning bid for the contract came in about $16 million under the second place bid from another Washington shipyard, but was still approximately $30 million above the state's $120 million estimate for the project. Vigor has been awarded approximately $100 million for the conversion of two vessels, with a fixed-price option to convert the third vessel in 2025.
WSF, a division of the Washington State Department of Transportation, is moving to reduce emissions at the direction of Gov. Jay Inslee and the Washington Legislature. The ferry system is the nation's largest, carrying tens of millions of people each year. But it is also the largest contributor of greenhouse gas emissions among Washington state agencies, burning 19 million gallons of diesel fuel in a typical year.
"This contract is a big step toward providing our ferry-served communities with better air quality and more sustainable service," said Matt von Ruden, WSF system electrification program administrator.
The Jumbo Mark II-class ferries were built between 1997 and 1999, at Todd Pacific Shipyards in Seattle. Each 460-foot-long ferry can carry up to 2,500 passengers and 202 vehicles, making them the largest vessels in the WSF fleet.
In September, Vigor will kick off the conversions with the first vessel Wenatchee at its Harbor Island shipyard in Seattle. The ferry is expected to reenter service next summer. The yard will then begin converting Tacoma in 2024. WSF has the option to extend the contract to convert a third boat, Puyallup, in 2025.
The conversion will remove two diesel generator sets from each of the vessels and replace them with batteries and associated support systems. The conversion will incorporate energy storage technology and rapid charging of the batteries from each applicable ferry terminal.
"We're tackling the biggest emitters in our fleet first, the Jumbo Mark IIs, which contribute 26% of our ferries' greenhouse gas emissions. When our terminals are electrified in 2026, we expect emissions from these three vessels to drop by roughly 95%," von Ruden said.
While converting the ferries, Vigor will also update aging propulsion system controls to increase reliability and extend the life expectancy of these vessels, which have been experiencing equipment failures while replacement parts for theses older systems have been hard to come by. Siemens Energy will supply the propulsion control systems as well as alarm and monitoring systems.
Adam Beck, Vigor executive vice president of ship repair, said, "Our long history with WSF makes Vigor the best place to help propel our ferry system into a low-emission, sustainable future which supports family-wage jobs all across Puget Sound. We look forward to getting to work and getting these ferries back in service for the thousands of Puget Sound residents who rely on them."
The conversion contract is the largest in WSF's $3.98 billion electrification program, which will see WSF spend $3.7 billion to electrify or build new ferries and $280 million on terminals over the next 17 years. Working toward its goal of zero emissions by 2050, WSF currently plans to retrofit six current diesel ferries to hybrid electric, build 16 new hybrid vessels, retire 13 diesel ferries and add charging power to 16 terminals.
In fall 2023, WSF plans to post a new draft invitation for bid for up to five new hybrid electric Olympic class ferries.
To date, WSF has received $1.34 billion, with $1.03 billion from the 2022 Move Ahead Washington transportation package. This state funding builds on over $40 million in competitive grants.