Weichai, Bosch Group Advance Technical Partnership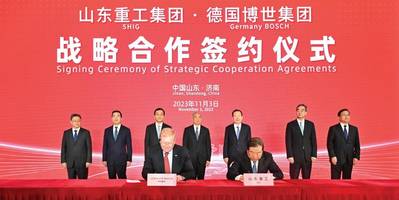 China's Weichai and Germany's Bosch Group have signed a strategic cooperation agreement with the aim to advance technological innovation in areas such as new energy, high thermal efficiency diesel engines and intelligent transport, among others.
On November 2, Stefan Hartung, Chairman of the Bosch Board of Management Directors of Bosch Group visited Weichai Group. He met Tan Xuguang, Chairman of Shandong Heavy Industry Group and Chairman of Weichai Power, and held discussions and exchanged ideas.
Hartung said that both parties have achieved record-breaking results in the past collaboration and hoped to further expand the cooperation into new technological areas such as fuel cells to accomplish better and longer-term development.
Tan Xuguang said both parties have worked closely on technological advancement, creating a showcase model of collaboration between Chinese and German enterprises. Weichai will continue to strengthen the all-round strategic cooperation with Bosch, synergizing their global R&D resources.
The cooperation between Weichai and Bosch started in 1999, leading to in-depth cooperation in the area of internal combustion engine power, and ultimately making the common rail system more deep-rooted and popular in the Chinese market.