Wind-powered RoRo Vessel Secures €9 Million in EU Funding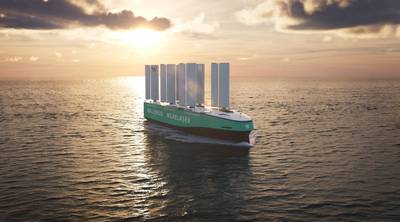 A group of partners led by Norwegian shipping company Wallenius Wilhelmsen has secured €9 million in EU funding to support the construction of an environmentally friendly wind-powered pure car and truck carrier vessel.
The partners, who are currently working to plan and execute all aspects of building and operating the RoRo sailing vessel Orcelle Wind, aim to have the first-of-its-kind vessel ready for commercial trading within the next five years.
The commercial maritime industry is exploring the use of wind power as both a main and auxiliary propulsion source as vessel owners, operators and charterers seek ways to reduce their environmental impacts.
The Orcelle Wind will achieve up to 90% reduced emissions compared to "today's best vessels", Wallenius Wilhelmsen said.
"The Horizon Europe EU funding shows the concept stood up to the scrutiny of the EU funding authorities and that they had the confidence to give it their support," said Roger Strevens, VP Global Sustainability at Wallenius Wilhelmsen.
The €9 million grant will be divided between 11 partners, which together represent a 360-degree perspective on wind propulsion – including weather routing, vessel design, supply chain orchestration and crew training to test rig installation on an existing vessel.
"The EU Funding project is based on a collaborative approach – we need strong partners to lead the way to zero emissions as soon as possible," Strevens said.
The EU project gives an opportunity to combine the investments needed for full-scale demonstration and data capture with advanced models and tools for wing propulsion vessels. Beyond the demonstrator's vessel, the partners will use the models and tools to develop advanced conceptual designs and operational plans for multiple vessel types to apply the wing solution.
According to current plans, the 220-meter-long Orcelle Wind will have capacity to carry up to 7,000 vehicles at speeds of 10-12 knots under sail, though Wallenius Wilhelmsen said the speed can be increased with the help of an onboard supplemental power system. The ship will also be able to transport heavy machinery and breakbulk products.