WinGD issues NOL for Chevron's Taro Ultra Advanced 40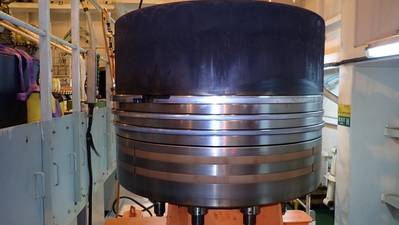 Chevron Marine Products' Taro Ultra Advanced 40 oil has successfully passed No Objection Letter (NOL) requirements by engine manufacturer WinGD.
This follows the earlier NOL award for Taro Ultra Advanced 40 from MAN Energy Solutions. This latest test validates the suitability of the oil for use in WinGD engines operating with liquid fuels containing sulfur in the range 0.00<1.50 % m/m, which includes Very Low Sulphur Fuel Oil (VLSFO).
The test also approved the general usage of Taro Ultra Advanced 40 when burning LNG in WinGD engines.
The field test was carried out on a WinGD 9X82 low speed engine while burning VLSFO. The engine condition at end of testing was very clean with low wear and deposit levels, and this good outcome resulted in the NOL being extended to include Gas General Usage by WinGD.
Taro Ultra Advanced 40 is the latest addition to Chevron's existing range of Taro Ultra oils, including Taro Ultra 100 and Taro Ultra 140. Taro Ultra Advanced 40 is specifically designed to keep pistons clean at moderate BN and oil ash levels, eliminating the need to alternate with cylinder oils of higher and lower BN to help maintain cleanliness.
"The successful testing of Taro Ultra Advanced 40 from two leading engine manufacturers, namely WinGD and MAN Energy Solutions, is a clear endorsement of the oil's ability to perform its core functions of lubrication, acid neutralization, and cleanliness well. We are implementing supply strategies to ensure Taro Ultra Advanced 40 is available where our customers need it. And as more ship operators take up high-performance 40 BN oils, we will expand our capabilities with a vision of having a global footprint. We are continuing the testing process to ensure the product is similarly effective on a range of engine types, including those in early development," explained Luc Verbeeke, Senior Staff Engineer, Chevron Marine Products.