World's Largest Methanol Engine Passes Factory Acceptance Tests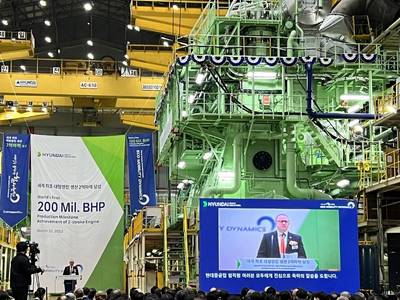 The world's largest methanol-powered two-stroke engine—an MAN B&W G95ME-LGIM type built by Hyundai Heavy Industries' Egine & Machinery Division (HHI-EMD)—has successfully passed factory acceptance tests (FAT) in South Korea.
MAN Energy Solutions developed the ME-LGIM dual-fuel engine for operation on methanol, as well as conventional fuel. The engine is based on the company's proven ME-series, with its approximately 8,500 engines in service, and works according to the Diesel principle. When operating on green methanol, the engine offers carbon-neutral propulsion for large merchant-marine vessels. Currently more than 100 ME-LGIM engines are on order or in service, more than 50 of which are G95ME-C10.5-LGIM variants.
Methanol carriers have already operated at sea for many years using the engine.
Bjarne Foldager, Head of Two-Stroke Business at MAN Energy Solutions, said, "With its 95 cm cylinder bore-size, this is the world's largest methanol engine. And maybe most importantly, when this engine is in operation it will save 130,000 tons of CO2 annually when operating on carbon-neutral methanol. We have a great responsibility for the future to develop and produce environmentally-friendly engines and ships."