Wrong Size Bearing Led to Engine Failure and Fire on Supply Vessel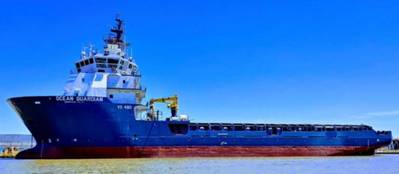 An incorrectly sized bearing led to an engine failure and fire last year onboard the offshore supply vessel Ocean Guardian, reports the National Transportation Safety Board (NTSB).
On May 27, 2022, the vessel was conducting a sea trial in Shilshole Bay when its no. 3 diesel generator engine suffered a mechanical failure, resulting in an engine room fire that caused $1.1 million in damages.
After maintenance was completed on all four main diesel generator engines in January and February 2022, full-function tests of vessel systems were conducted in open waters. During the sea trial, the engineering crew heard a "large bang" and observed flames near the no. 3 main engine. The crew extinguished the fire using the vessel's carbon dioxide fixed fire-extinguishing system.
As a result of the mechanical failure and ruptured engine block, the no. 3 main engine was damaged beyond repair. The area in the engine room around and above the no. 3 main engine sustained smoke and heat damage. Wiring harnesses on the remaining engines, electrical cables, lighting fixtures, walkways, and control cables in the engine room required replacement.
NTSB investigators found that the no. 3 main engine's main bearing journals had been machined down to a smaller diameter, and undersized bearings were installed at some point prior to the 2022 maintenance.
Subsequently, during the 2022 maintenance, Caterpillar service technicians did not identify the bearing's part number on the service report and replaced it with a standard-sized one. The bearing's incorrect size allowed lube oil to leak from the larger clearances of the bearing. The decreased lube oil supply pressure resulted in a rapid temperature increase of the connecting rod bearings and multiple engine components breaking free while the engine was running.
"When maintenance is performed, correct replacement of machinery components is critical to ensuring safe and reliable vessel operation," the report stated. "Vessel crews and equipment manufacturer technicians should carefully identify and document part numbers of all components removed from shipboard equipment. Tracking systems are an effective form of record-keeping that can be used to ensure proper replacement part selection for reinstallation."
Following the engine failure and fire, the local Caterpillar service company switched to a new service tracking system that allows technicians to upload pictures and reports on their cell phones to improve documentation and information sharing between technicians.