Yanmar, Nauti-Craft Ink Tech Transfer Deal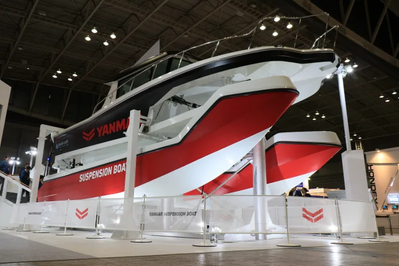 Yanmar and Nauti-Craft entered into a technology transfer agreement with the purpose of commercializing Yanmar's boats by utilizing Nauti-Craft's patented marine suspension technology.

Cooperation between Yanmar and Nauti-Craft began in 2016 with Yanmar evaluating the technology by constructing a 10-meter Suspension Boat concept. Yanmar showcased the concept boat at the Japan International Boat Show in Yokohama in March 2018.
Following the evaluation of this Concept Boat and further close cooperation to evaluate various market opportunities, Yanmar agreed to an expanded non-exclusive arrangement with Nauti-Craft. The agreement brings this cutting-edge technology under Yanmar's R&D umbrella for further development and integration with the company's advanced marine technologies, with a view to commercialization and mass production of the technology.
Nauti-Craft will explore global market applications supported by the Yanmar group's worldwide network.

Photo: Yanmar

• marine technologies • Yanmar