Caterpillar Marine Delivers First C32B – 2433 mhp Engines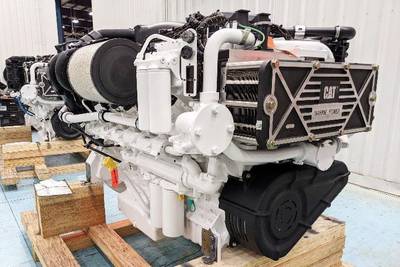 Caterpillar Marine has delivered the first Cat C32B 2433 mhp engines to Cat dealer Gregory Poole in North Carolina. Building on the experiences gained with high performance applications, the C32B product line will be available as a 12-cylinder in a range of power options from 1,800-2,400bhp (1,825-2,433 mhp).
According to Caterpillar Marine, additional benefits include a comfortable user experience by providing operation on a low noise and vibration level and supporting boatbuilders with an easy installation for optimized assembly processes.
"We're pleased to work with several of our dealers, including Gregory Poole here, as we start placing the C32B into new vessel and repower projects. This reaffirms Caterpillar's commitment to the yachting and sport fishing segments," said Allen Bowman, Caterpillar Marine Product Strategy lead for C32B.
"The C32B product line ushers in a new era for vessel operators by offering a high-power density V-12 engine capable of powering many of the world's largest sportfishers and motor yachts," said Charlson Smith, Americas Pleasurecraft & Yachting Segment Manager for Caterpillar Marine.
Customers familiar with Cat engines can expect the same Caterpillar reliability, support, and peace of mind with the C32B product models. "By bringing an EPA Tier 3 and IMO III-compliant engine to market, we're enabling customers to enjoy reliable power with a relatively low carbon footprint, all while being served by a vast global dealer network," Smith said.
These state-of-the-art engines will also be available with the newly enhanced Cat Concierge program for unparalleled and personalized 24/7 global remote support.
The engine will be available to order in late 2021, with production expected to begin in mid-2022.