First MAN ME-GA Engine Completes Gas Trials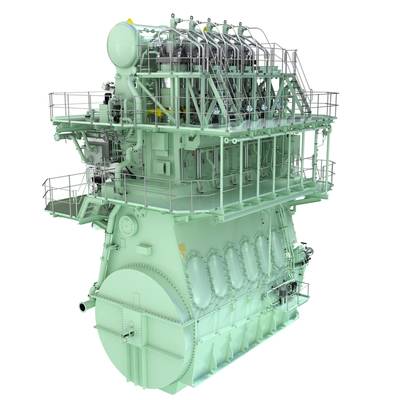 MAN Energy Solutions has announced that the first ME-GA engine has completed gas trials aboard an LNG carrier built by Hyundai Samho Heavy Industries (HSHI) for Norwegian shipping company, Knutsen OAS Shipping.
Built by HHI-EMD, the Knutsen ME-GA engine comes equipped with Exhaust Gas Recirculation (EGR) that reduces methane-slip emissions compared to first-generation, Otto-cycle engines without EGR.
The MAN B&W ME-GA engine delivers a low CAPEX solution aimed at LNG carriers that are able to use 'boil-off' gas as a source of fuel. Based on the MAN B&W dual-fuel design with minimal installation requirements, the MAN B&W ME-GA uses an efficient ignition concept and unique gas-admission system that delivers safe and reliable operation, says MAN. It features minimal operational costs, simple supply and purging concepts, and low maintenance costs for its fuel-gas supply system.
Bjarne Foldager, Head of Two-Stroke Business, MAN Energy Solutions, said: "This successful gas trial is a very important milestone in the development of the ME-GA engine. We developed this engine for easy application to most contemporary LNG carrier designs and, indeed, all ME-GA orders to date have been exclusively for this segment."
Thomas S. Hansen, Head of Promotion and Customer Support, MAN Energy Solutions, said: "We have had more than 260 orders for the ME-GA since its launch in May 2021 and our orderbook contains ME-GA engine orders for ship deliveries stretching all the way into 2027. EGR as standard enables the ME-GA to significantly reduce emissions, while simultaneously improving fuel efficiency and operation in both gas and fuel-oil operation."