Furetank and Wärtsilä Advance Engine Technology to Reduce Methane Slip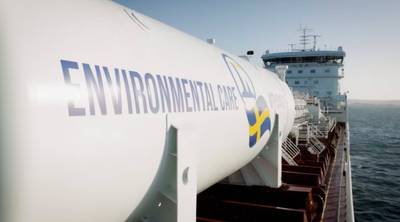 Wärtsilä and Swedish shipping company Furetank are co-developing and testing two technologies showing the potential to halve the methane slip.
Running vessels on LNG or bio-LNG reduces emissions of CO2, NOx, SOx and harmful particles, but the downside is methane slip: the release of unburned gas fuel, not fully combusted in the engines.
Although the fraction released is small, methane is a more potent greenhouse gas than CO2.
Two technical solutions have been tested in Furetank's Vinga series tankers. One of them is a Greenhouse Gas (GHG) reduction package, developed by Wärtsilä for dual fuel engines. The GHG package actively controls the engine while working in demanding conditions like manoeuvring, harsh sea conditions or varying fuel quality. This way, combustion is optimized and unburned gas emissions minimized.
The other solution is the Low Load Optimization package, reducing the methane slip at low engine loads, for example during harbour operations like loading and unloading. This package actively balances the loading of each engine cylinder, optimizing the overall total engine efficiency even at a low engine load.
The tests performed, both in the laboratory and at sea, show methane slip was reduced by 45-50%.
"These are great results, far exceeding what we had expected or technically believed. The tests show a significant impact in absolute terms. We believe many shipping companies will be interested in these solutions. And this is not the end of the road, there is more to be done," says Göran Österdahl, sales director of marine power at Wärtsilä.
For Furetank, this is yet another step in progressing the emission-reducing technology in the Vinga vessel series, designed by Furetank with partners and the globally most energy efficient ships in their segment according to the IMO EEDI index.
"We had many discussions with Wärtsilä during the past years on how to counter the methane slip. It is a tough nut to crack and the most important technical issue for us to solve. There is an ongoing chase for new engine solutions which will only intensify with the EU ETS system and stricter IMO regulations. We are happy to have this fast track to developers and manufacturers of advanced engine technology," says Clas Gustafsson, Technical Manager at Furetank.
The functionality will be implemented in the Vinga sister vessels currently being built at the China Merchants Jinling Shipyard in Yangzhou, and retrofitted into all earlier ships in the series.