HMD Gets LR AIP for Dual-fuel 45,000cbm LPG Carrier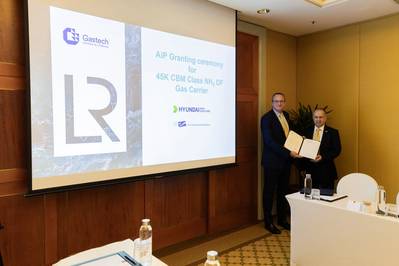 Classification society Lloyd's Register (LR) announced it has granted approval in principle (AIP) to South Korean shipbuilder Hyundai Mipo Dockyard (HMD) for its new 45,000cbm liquefied petroleum gas (LPG) carrier design, with availability to be ordered with ammonia dual-fueled propulsion.
The dual fuel system equipped on HMD's LPG carrier allows operators and owners to prioritize their environmental, societal and governance (ESG) strategies for their fleets and align with the IMO's revised goal of net zero CO2 emissions by 2050.
The design incorporates three prismatic type 'A' tanks, reliquefaction plant, ammonia dual-fueled engine with fitting, liquid fuel supply system, fire fighting equipment and water spray system. The vessel is focused on verifying safety issue for ammonia toxic.
As part of the project, HMD, Marshall Islands flag and LR completed a feasibility study for the application of the ammonia (NH3) fueled system through a comprehensive certification process, to ensure that the NH3 fueled system complies with the existing IGC code. LR issued AIP following a drawing appraisal per applicable LR Class Rules & Guidance and related international regulations and standards.
Andy McKeran, Chief Commercial Officer, Lloyd's Register, said, "We are delighted to continue our strong relationship with HMD with the granting of this approval in principle. The gas sector retains an important role in the maritime energy transition and ensuring supply demands can be met with new vessels is key. It is also crucial that we look beyond the short term and ensure that the global fleet is equipped with the capability to transition to green future fuel usage, with vessels like HMD's dual-fueled LPGC offering ship owners a credible option for decarbonization."
Chail-il Kim, Senior Vice President, Hyundai Mipo Dockyard, said, "We, HMD forecast that Ammonia dual-fueled vessel will be widely adopted by the marine market as a substitute for conventional fuels in accordance with recently strengthened IMO GHG reduction and our design will timely respond to market demand for Ammonia duel-fueled vessel in the upcoming future. As a first mover in the initial ammonia dual-fuelled vessel, we HMD will continuously endeavor to improve our design with LR."
Tom Blenk, Deputy Commissioner of Maritime Affairs, the Republic of the Marshall Islands (RMI) Maritime Administrator, said, "The RMI Maritime Administrator has no objection to the proposed design concept of the ammonia 45,000 cbm LPG carrier and is pleased to be involved in this project. The advancement of new technologies in the maritime energy sector is a necessary step toward ensuring that transition to a greener future. It was a pleasure to work with LR during the feasibility study and we look forward to continuing this relationship with future projects."