Kamsarmax Rotor Sails Install Expected to Deliver 10% Fuel Savings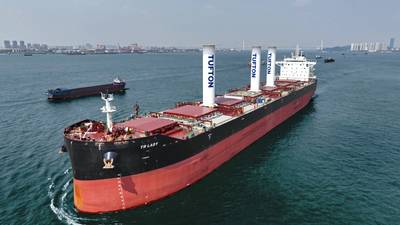 The installation of rotor sails on board a 82,000 dwt Kamsarmax bulk carrier is expected to generate a 10% reduction in fuel burn and emissions.
The TR Lady was retrofitted with three 5×24m rotor sails from Anemoi Marine Technologies at China's Chengxi Shipyard in June 2023. The ship is owned by TR Lady Shipping, a portfolio company of Tufton Investment Management, and is on a time charter with Cargill.
The technology was installed on Anemoi's patented transverse rail deployment system, which enables the sails—fixed to the center line during voyages—to be moved port or starboard when berthed for cargo operations, meaning loading and unloading can continue without being obstructed. Class approvals have been awarded by Lloyd's Register.
Rotor sails, also known as Flettner rotors, are vertical cylinders which, when driven to rotate, harness the renewable power of the wind to provide additional forward thrust. The mechanical sails capitalize on the aerodynamic phenomenon known as the Magnus Effect to deliver significant fuel and emission savings.
The vessel has now completed its first voyage with the rotor sails from China to Australia. During this voyage, Anemoi engineers sailed with the vessel for sea acceptance testing and trials, with positive initial performance results which suggest that TR Lady can see average annual fuel and emissions savings exceeding the original expectations. The performance of the rotor sails will continue to be monitored over the coming months.
"We and our investors are committed to shipping's decarbonization journey and believe wind propulsion is a key enabler in helping Tufton reach its 2050 net-zero goals. We are very proud to have been able to support this innovative application of decarbonization technology on TR Lady," said Andrew Hampson, CEO of Tufton Investment Management.
"We are pleased to be partnering with Tufton who share our decarbonisation ambition and belief in wind propulsion as a key part of the future of shipping," said Jan Dieleman, president of Cargill's Ocean Transportation.

"I am delighted to see the project brought to life and for the initial performance results to be so positive. The installation is a testament to our large supply chain in China and our dedicated team. We look forward to assessing the performance and seeing continued positive results for our environment," said Kim Diederichsen, CEO of Anemoi Marine Technologies.