New Hybrid-drive Tug is First on South America's West Coast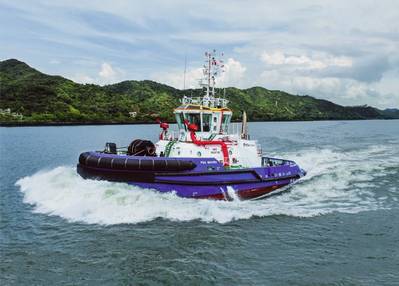 The PSA Wayra ASD tug will soon enter service for PSA Marine Peru, a wholly owned subsidiary of PSA Marine (Pte) Ltd, as the first tug with a hybrid drive system on South America's west coast.
Hong Kong-based Cheoy Lee Shipyards has built the PSA Wayra on the RAmparts 2400W design from Robert Allan Ltd. The tug is propelled by SCHOTTEL RudderPropellers featuring patented SYDRIVE-M technology. This mechanical hybrid solution without the costly complexity of common hybrid technology reduces both the vessel's maintenance costs and its fuel consumption. It has a particularly efficient and sustainable impact on the operation profile of harbor tugs that regularly alternate between towing and transit operations.
The main propulsion of the ASD tug consists of two diesel-driven type SRP 460 SCHOTTEL RudderPropellers (2,240 kW each) featuring fixed-pitch propellers with a diameter of 2.6 metres. With this thruster configuration, the 24.4-metre-long and 11.25-metre-wide tug has more than 70 tonnes of bollard pull.
Besides this, the rudder propellers feature the certified SCHOTTEL LeaCon sealing system which provides safe and reliable protection against contamination of seawater by operating materials.
SYDRIVE-M connects a port and starboard mounted azimuth thruster in one vessel, allowing the thrusters to be driven together by only one of the main engines. This then reduces main engine operating hours, thus lowering maintenance costs as well as less fuel consumption and lower emissions.
The system needs no additional electronical components which offers many advantages as demonstrated by three main operating modes: Light Operation or Free Sailing Mode, Full Thrust Operation Mode and FiFi Mode.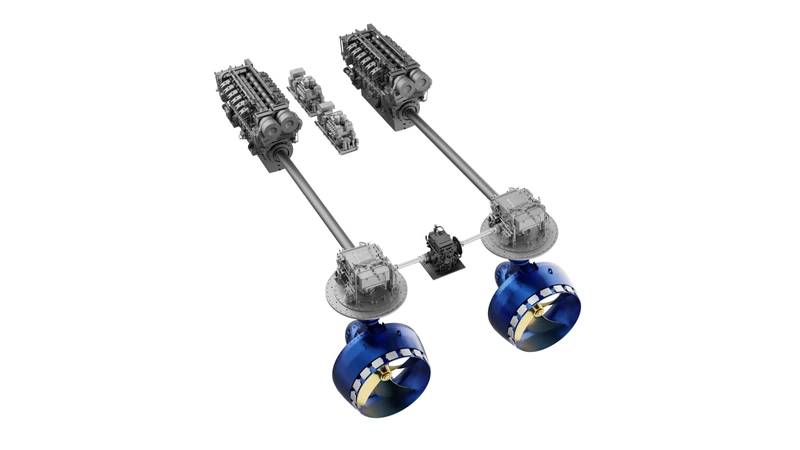 (Image: SCHOTTEL)