Norsepower Nets €28 Million in Investments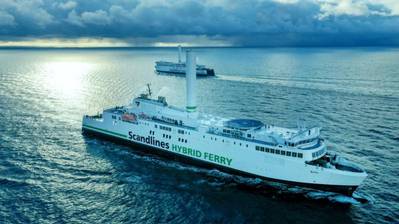 Finnish auxiliary wind propulsion company Norsepower announced it has secured €28 million in its latest Series C fundraising round, enabling the company to scale up production and expand the reach of its fuel-saving and emissions-reducing technology.
French asset manager Mirova, an affiliate of Natixis Investment Management dedicated to sustainable investment, led the fundraising through its impact private equity Mirova Environment Acceleration Capital fund. Additional participants in the round included TheFinnish Climate Fund (Ilmastorahasto), OGCI Climate Investments, Nefco – The Nordic Green Bank, Tesi, and Power Fund III.
A modernized version of the Flettner rotor, the Norsepower Rotor Sail️ uses a minimal amount of the ship's electric power to rotate cylinder-shaped rotors on the ship's deck. Rotation together with wind generates powerful thrust – saving fuel and reducing emissions.
The product has already been used by customers for over eight years and has 250,000 operating hours of verified performance data – which shows fuel consumption savings of 5-25%, or more.
Norsepower said the new funding will help accelerate its scale of production and help to meet increasing global demand. It will also strengthen Norsepower's product research and development, marketing, recruitment, and sizeable intellectual property portfolio.