G2 Ocean Adds Two More Ammonia-ready Vessels to Its Fleet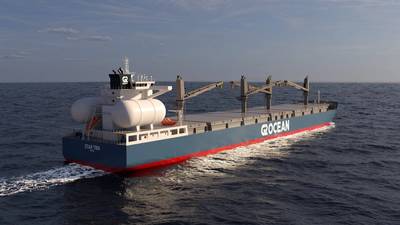 Gearbulk and Grieg Maritime Group joint venture G2 Ocean is adding two more ammonia-ready 82,300 dwt open hatch vessels to its fleet. Chinese shipbuilder CSSC Huangpu Wenchong Longxue will build the vessels for scheduled delivery in 2026.
Following its commitment to only purchase newbuilt vessels with zero-emission technology, Grieg signed a contract in May 2023 with the shipyard CSSC Huangpu Wenchong Longxue which included two firm plus two optional 82,300 deadweight tonne (dwt) ammonia-ready open hatch vessels. Last week, Grieg exercised its option for the two additional vessels. All four vessels will be delivered to G2 Ocean's pool in 2026.
"With this expansion, G2 Ocean is increasing its carrying capacity and further demonstrating its commitment to providing flexible and sustainable shipping solutions to our customers," said Arthur English, CEO at G2 Ocean.
Equipped with duel-fuel engines capable of operating both on fuel oil and ammonia, tween decks, a battery package to make peak-shaving a possibility and shore power options, the Chinese-built vessels will be the largest, most environmentally friendly, and technologically advanced carriers in the G2 Ocean fleet.
Two center variable frequency drive (VFD) fully electric cranes that will be able to lift 120 metric tons each, with a tandem of 240 metric tons. Front and aft will have two 75 metric tons VFD fully electric cranes.
"The design and size of the vessels make them very flexible, allowing us to meet the requirements of our customers worldwide. With this delivery, we are also able to take another important step on our decarbonization journey and our target of becoming net-zero by 2050," English said.