SWITCH Maritime Raises $10 Million to Grow Its Green Ferry Fleet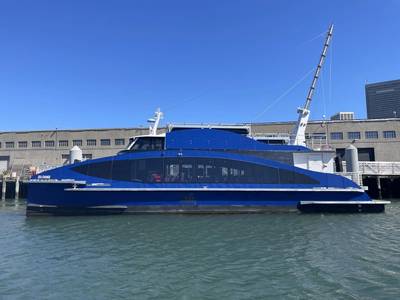 SWITCH Maritime announced plans to grow its U.S. fleet of zero-emission ferries following the completion of a $10 million in a Series A round led by Nexus Development Capital.
Founded in 2018, SWITCH's mission is to enable private and public municipal ferry operators to more easily replace their carbon-intensive, diesel-powered fleets while reducing operating and fueling costs over the lifetime of their vessels.
The fundraise comes on the back of the completion of its flagship zero-emission vessel, Sea Change, which will operate as part of the public Water Emergency Transportation Authority's (WETA) SF Bay Ferry fleet. The new 75-passenger ferry uses hydrogen fuel cells to produce electricity to power electric motors for distances up to 300 nautical miles, and speeds up to 15 knots, with the added benefits of no exhaust smoke and very little vibration and noise. While the only emission is pure water vapor, this technology allows for new ferries to have the same performance capabilities as diesel-powered vessels, and without the need for installing large-scale battery charging infrastructure on the shore.
"Nexus Development Capital is committed to helping companies bridge the gap between project conception and implementation by working together to take nascent technologies to market," said Nexus Development Capital CEO, Josh Kaufman. "SWITCH is filling a huge market gap in decarbonizing the maritime industry, and we're excited to work together to bring carbon-free sea transport to the U.S."
As states like California begin to implement stringent emissions regulations and reporting requirements for commercial harbor craft (including ferries), vessel operators are becoming faced with the reality that they need to modernize and decarbonize their aging fleets, often without the resources to successfully make the transition. SWITCH said its model addresses the complex, resource-intensive process of technology integration, vessel construction and regulatory approvals for zero-emission vessels and offers them a painless path to a carbon-neutral, compliant fleet.
Specifically, SWITCH said it provides operators with three key avenues of support: (1) vessel design, financing, and construction, (2) short- and long-term vessel lease options, alleviating large upfront capital expenditures, and (3) pre-packaged carbon-neutral fueling or charging infrastructure solutions. These baseline services can be complemented by grant application writing and tax incentive administration, preventative and unplanned maintenance of new power systems onboard, management of all necessary permitting and crew training as well as next-generation carbon management and reporting.
"Our objective is to take the stress out of the energy transition for ferry operators," said Pace Ralli, CEO of SWITCH Maritime. "Everyone is under a lot of pressure to navigate the rapidly evolving technology and regulatory landscape, and without simple pre-packaged solutions that can be difficult. At SWITCH, we're excited to help make that transition easier, achieving important emissions reductions along the way."
Having received regulatory approval in 2022 from the United States Coast Guard (USCG) for hydrogen powertrain and storage systems, Sea Change represents the culmination of years of cooperation with the USCG focused on safely integrating hydrogen and electric powertrain systems on passenger vessels and paves the path for SWITCH's fleet expansion plans. Establishing a regulatory framework for this technology unlocks the possibility of progressing to larger ferry designs capable of operating at higher speeds on longer routes, the company said.
SWITCH said it is actively working on additional expansion designs for 150-, 300- and 450-passenger zero-emission ferries, leveraging the lessons learned from its flagship vessel and is ready to grow its fleet in key ferry markets across the US.
Sea Change
Launched in August at All American Marine shipyard in Bellingham, Wash., the Sea Change is a 70-foot catamaran ferry designed by Incat Crowther, equipped with a hydrogen fuel cell system from Zero Emissions Industries (ZEI), which includes 360kW of fuel cells from Cummins and 242kg of hydrogen storage tanks from Hexagon Purus, and a 600kW electric propulsion system from BAE Systems which includes 100kWh of lithium-ion battery storage from XALT. The construction management was led by the Hornblower Group.
The project is also partially funded by a $3 million grant from the California Air Resources Board (CARB), administered by the Bay Area Air Quality Management District (BAAQMD), that comes from the California Climate Investments initiative.
Additionally, the project received the first-ever loan guarantee under BAAQMD's Climate Tech Finance program, which seeks to reduce greenhouse gases by accelerating emerging climate technologies. In partnership with the California Infrastructure Economic Development Bank and the Northern California Financial Development Corporation (NorCal FDC), the Climate Tech Finance team led a technology qualification and greenhouse gas analysis that deemed SWITCH eligible for a loan guarantee. This loan guarantee supported SWITCH in securing a $5 million construction and term loan with KeyBank.