Volvo Penta Partners With Bravada Yachts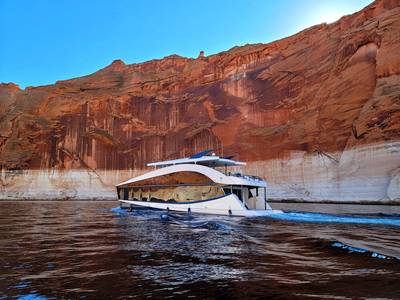 Luxury houseboat manufacturer Bravada Yachts selected Volvo Penta as the propulsion provider of choice for the builder's new Atlas V Series 80 x 22 custom lake houseboat, Invictus, located on Lake Powell, Arizona.
Invictus marks several important "firsts" for Volvo Penta. The luxury houseboat is the first Bravada houseboat to be powered by Volvo Penta and largest boat in the region to be powered by a Volvo Penta Aquamatic sterndrive.
"Team Bravada wanted a propulsion system that would continue the Bravada legacy of changing the houseboat industry and we found it in Volvo Penta. We were impressed by the throttle response, rapid acceleration and maneuverability with integrated electric steering," said Robert Gutierrez, Principal at Bravada Yachts. "In addition, we found the Volvo Penta propulsion package very easy to install and service."
The DPI sterndrive enables silent and smooth shifting and boasts high engine torque for easier maneuvering. The Volvo Penta system also offers longer service intervals, fewer service items and propeller seals designed for longer life, as well as industry-leading fuel efficiency and low CO2 emissions. The fully integrated EVC network provides improved diagnostics and monitoring of system health.
Martin Bjuve, president of Volvo Penta of the Americas, commented, "The team at Bravada does not shy away from venturing toward uncharted territory, and this is a mindset we fully embrace at Volvo Penta. We see strong synergies between our organizations and are confident our solutions will serve as a cornerstone in Bravada's efforts to define the future of the houseboat industry."
The installation and system integration of the propulsion package was overseen by Helmut's Marine Service, Volvo Penta's Power Center servicing Arizona, California, Hawaii, Nevada and Guam.
"This collaboration with Bravada demonstrates just how versatile the propulsion package from Volvo Penta really is," said Nadine Urciuoli, vice president of Helmut's Marine Service. "The power, performance and fuel efficiency of the system makes it suitable for a wide range of applications."
"Invictus, with massive aquarium-style floor-to-ceiling glass windows and doors, features a host of luxury amenities for lake cruising and entertaining in style," said Aaron Browning, Principal at Bravada Yachts. "The boat has five staterooms, two baths and two cuddy cabins. There are a fire pit and waterslide on the top deck, stainless-steel appliances and quartz countertops in the kitchen, 10 flat-screen satellite TVs, surround sound and other custom features for the most discriminating owners."