What is 'Hybrid-ready'?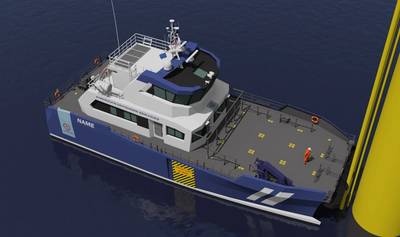 There are vessels on order today—including crew transfer vessels (CTV) being built in the U.S. (American Offshore Services at Blount Boats and for WINDEA CTV at St. Johns Ship Building and Gulf Craft, for example)—that are described as "hybrid-ready". Of course, a vessel is either hybrid or it isn't. So what does hybrid-ready mean?
When asked about the hybrid-ready CTVs that Blount Boats is building, the shipyard's president Marcia Blount told Marine News that the vessels' Volvo Penta IPS propulsion system "is readily upgradeable to hybrid at any time in the future. The vessel has been designed and planned with the space reserved for all the required components, which will simplify the work and time needed to accomplish this future upgrade."
Vessel owners, designers, builders and propulsion suppliers are planning ahead. Those who may want to go hybrid in the future can take certain steps to make the transition easier—and less costly—down the line.
According to Carl-Henrik Hård, a sales and application engineer at Volvo Penta, hybrid-ready is all about being best positioned for tomorrow's technologies and operations. "For us, it means preparing the market and our customers for what's coming in the near future," Hård said. "The vessels that are on the drawing board for today may last for quite a long time in some cases. . . [Hybrid] technology maturity is not right for all the type of operations yet."
Volvo Penta is among a number of propulsion companies working to advance its technologies to meet the needs of a growing customer base looking at hybrid as a means to improve their operational efficiency and environmental footprint. "We see opportunities among all our customers, from CTVs, which in our world is quite big, and other marine commercial vessels, but all the way down to smaller leisure boats," Hård said.
The company possesses in-house knowledge and expertise in areas such as vessel design, efficiency and general layout, specifically around the propulsion system, to help vessel owners achieve their hybrid goals, Hård said. "There are many bits and pieces where we can work with customers to make the vessel as suitable as possible for hybridization," he explained.
Examples of this could be designing a vessel's layout and general arrangement with space to accommodate batteries later on, or optimizing the vessel for the specific use cases, which Hård said is especially important when onboard energy is limited.
Another company preparing for the growing hybrid market is ZF Marine, which has a line of gearboxes that it describes as hybrid-ready. "By that, we mean that it already comes equipped with the necessary mechanical pieces to allow inputs from an alternative source, be it electric motor, a smaller engine or something else," said David Friedenberg, engineering manager at ZF Marine LLC, USA.
For ZF, the concept is not new. "ZF has worked with something like this from the '80s, but it wasn't electric hybrid power, but a smaller diesel engine." Friedenberg said. "When hybrid came along, it was really not much for us to say, 'All right, how do we do that?' Essentially, a traditional gearbox having three shafts, input shaft, output shaft, intermediate shaft, two pinions that are able to affect the left- and righthand output shaft rotation. We just added a fourth shaft; the same gear teeth pattern and connection to the output shaft, big bull main gear, and then used a clutch back to engage or disengage the alternative driver. If it's an electric motor, then the electric motor can be clutched, the other clutches can be released, the engine can be stopped, the diesel engine can be stopped. The electric motor now applies its clutch back and drives the standard existing output shaft gear to propel the vessel down the waterway."
Friedenberg said ZF sees hybrid opportunity across the commercial marine sector. For now, vessels like ferries that operate on short routes, or crew boats, pilot boats, whale watching boats, dinner cruise vessels with a fixed operational circuit.
"In terms of retrofitting an existing gearbox or a design that's already functioning in a boat, that's not so easy. I would say, from a financial perspective, it can be impractical to do that. What we have done, though, is we've changed the case design, to a certain extent, to allow us to use one casting that can be machined so that it could be used through the model."