Wight Shipyard Launches Hybrid Ferry for Uber Boat by Thames Clippers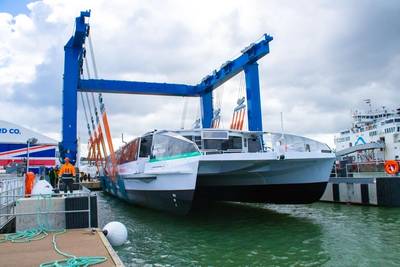 British aluminum shipbuilder Wight Shipyard has launched Earth Clipper, the first in a series of series of two new Clipper-class hybrid passenger vessels for Uber Boat by Thames Clippers.
One of the key features of the new ferry is its hybrid propulsion system, which combines electric and diesel engines to reduce emissions and minimize our environmental impact making it one of the most eco-friendly options for river transport in London.
The hybrid design will allow the new Uber Boat by Thames Clippers vessels to operate solely on battery power to transport both commuters and sightseers along the Thames throughout the Capital's central zone between the Tower Bridge and Battersea Power Station piers and recharge while using bio-fuel power outside of Central London. The technology is not reliant on shore-based charging with the new boats using excess power from the bio-fuel engines to recharge their batteries for the Central London stretch.
The newbuild will now undergo a series of system tests and trials before travelling from the Isle of Wight to London.