ZEI Raises $8.75 Million in Series A Funding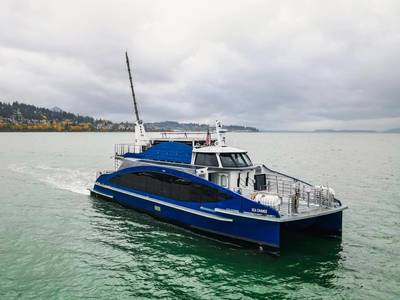 San Francisco-based hydrogen technology company Zero Emission Industries (ZEI) announced it has raised $8.75 million through the completion of a Series A financing round led by Chevron New Energies, with participation from commodity trading company Trafigura and shipping and logistics company Crowley.
ZEI, formerly known as Golden Gate Zero Emission, is best known as the technology team behind the Sea Change ferry, the world's first commercial hydrogen fuel cell vessel launched in the San Francisco Bay in 2021.
"The ZEI story began a decade ago when I was at Sandia National Laboratories working to decarbonize the maritime industry and found that it can only really be done with hydrogen," said ZEI CEO, Joseph Pratt. "I am so excited that our four companies have come together to accelerate that mission and expand our reach into all hard-to-decarbonize sectors."
ZEI said its partnerships with Chevron, Trafigura and Crowley will provide an opportunity to leverage their experience, insights and infrastructure to scale operations and meet customer demand. The company plans to offer offer integrated fueling and power system products in 2024.
John Motlow, ZEI CSO, said, "At Zero Emission Industries, we're not just talking about theoretical solutions for maritime and heavy-duty vehicles. Our team of world leading experts is actually building tangible and defensible technology products that solve real problems. Innovations like our patented hydrogen refueling technology solves a real challenge that customers and suppliers face today."
"As a company committed to finding solutions to help decarbonize and power the maritime industry, Crowley is excited to support ZEI and its mission to make hydrogen technology commercially viable. The advancements of hydrogen power could help not just our customers, but our people, vessels and communities we serve," said James Fowler, senior vice president and general manager, Crowley Shipping, which includes advanced energy solutions.
"Trafigura's investment in Zero Emission Industries aligns with our strategy of partnership with actionable technologies for hydrogen and hydrogen derivative projects. We look forward to seeing ZEI's innovative technologies deployed in the market in the coming months," said Margaux Moore, Head of Energy Transition Research and Venture Investments for Trafigura.