MAN ES: Moving Forward on Ammonia Engines
MAN ES will start testing on its ammonia engine in Copenhagen in Q1 2023. Images courtesy MAN ES
Bjarne Foldager (right), SVP, head of two stroke business at MAN ES hosted Maritime Reporter in Copenhagen for a look behind the scenes at its ammonia engine test bed & facilities. Image courtesy MAN ES
Bjarne Foldager (right), SVP, head of two stroke business at MAN ES hosted Maritime Reporter in Copenhagen for a look behind the scenes at its ammonia engine test bed & facilities. Image courtesy MAN ES
As shipowners ponder future fuels, MAN Energy Solutions is sailing full speed ahead optimizing dual fuel marine powerplants while preparing to start testing ammonia fueled engines in early 2023. Bjarne Foldager, Senior Vice President, head of two stroke business at MAN ES hosted Maritime Reporter & Engineering News in Copenhagen for a look behind the scenes at a cornerstone of its mandate to 'Move big things to Zero.'

Just 10 years ago, in December 2012, word came that General Dynamics NASSCO finalized a contract with TOTE, Inc., for the design and construction of two 764-ft.-long, 3,100 TEU LNG-powered containerships, effectively setting a new benchmark in green ship technology: at the time the largest ships of any type in the world primarily powered by liquefied natural gas (LNG).
A short decade later, Bjarne Foldager, Senior Vice President, head of two stroke business at MAN ES, reports that in 2022, 54% of all new two-stroke engine orders from the global power leader – as measured in kW – will be dual fuel, a significant jump from 2021 when 23% of new engine orders were dual fuel.
While LNG still dominates the dual fuel choice today, that is starting to evolve too as LNG is not the fuel to get shipowners over the 2050 emissions hump. A broad array of new fuels – including SNG, biofuels, hydrogen, methanol and ammonia – are entering the mix as shipowners eye options that will enable them to more easily reach ever stricter emission and performance mandates.
MAN ES projects that 2035 will be the tipping point where ammonia will overtake methanol in terms of demand. "We will obviously have to wait and see," said Hrishikesh Chatterjee, Promotion Manager, MAN Energy Solutions. "Many times when we make our projections, we are conservative. [But] we are expecting ammonia to be a game-changer in the dual fuel segment."
In late 2022 MAN ES' portfolio of two-stroke, dual-fuel engines passed a milestone, with more than 1,000 units on order or in service, with the ME-GI (-Gas Injection) engine leading the way with more than 500 orders. The first engine tests of the ME-LGI (-Liquid Gas Injection) platform began in 2015, followed by the first sea-trial for the ME-LGIM (methanol) engine in 2016. Development of an ethane (ME-GIE) unit followed in 2016 with sea-trials already in 2017. Currently, more than 240 dual-fuel engines have entered service, while an MAN B&W ammonia-fueled engine is due to be delivered to a shipyard by 2024. In total, low-speed, dual-fuel MAN B&W engine orders include: ME-GI (538); ME-GIE (37); ME-LGIM (72); ME-LGIP (139); and ME-GA (214). In breaking down the adopter of dual fuel technology, the pie chart is dominated by containerships and tankers, with a commanding 40% of the market apiece.
But today in Copenhagen at the MAN ES Research and Development Center, while there is still much attention paid to maximizing the efficiency, performance and slashing emissions of existing diesel and dual fuel powerplants, the future fuel discussion had turned squarely on two fuels: methanol and ammonia.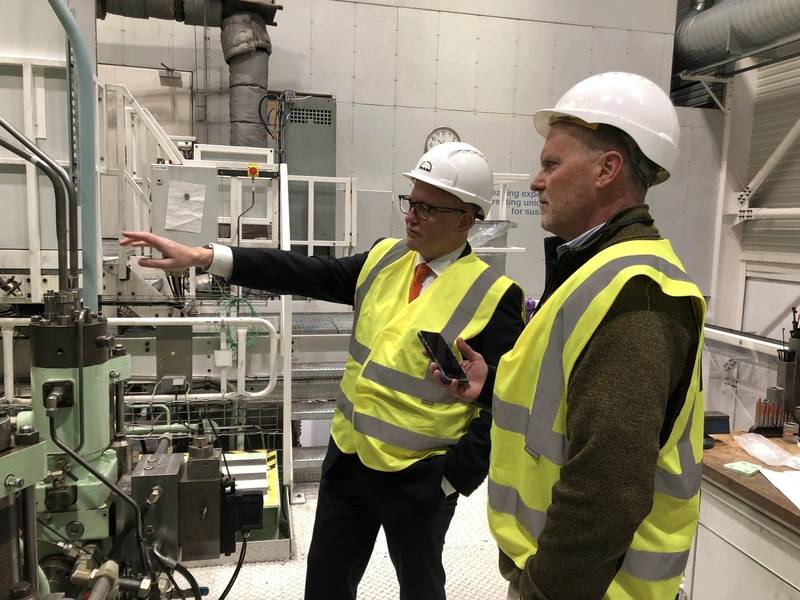 Bjarne Foldager (left), SVP, head of two stroke business at MAN ES hosted Maritime Reporter in Copenhagen for a look behind the scenes at its ammonia engine test bed & facilities. Image courtesy MAN ES
Progress on ammonia
On a cold December day, the waterfront site where MAN ES resides is bustling with activity as the power plant company works to finalize infrastructure to start testing its ammonia engine in Q1 '23, aiming to deliver the first commercial engine in 2024. Working in step with its Japanese licensee Mitsui, the first engine being designed is a 60 bore model, a size selected premised on its popularity to power feeder containerships, gas carriers and bulk carriers.
"I wanted to show you what we are doing here," said Foldager. "This is what the world is waiting for: ammonia. We are ready to start burning ammonia on our test engine."
The set-up to test run the ammonia engine takes great care, particularly as the company is situated in the middle of Copenhagen, in close proximity to a residential and public areas.
While there remains some apprehension to ammonia as a fuel in maritime premised on its toxicity, Chatterjee was succinct: "If it works in Copenhagen, it will definitely work on the ship. Failure is not an option."
To that end, risk identification and mitigation is the cornerstone, and Chatterjee said that "safety is at the center of everything," with work being conducted on emissions, combustion, odor/venting, maintenance intervals, corrosion of materials, elastomer compatibility.
On site for the testing, the company is permitted to store a maximum of five cubic meters of ammonia, and in conducting its risk assessment of the operation concluded that the biggest risk came in the transfer of ammonia from truck to storage tank. The final piece of the pre-test puzzle is the construction of a special shed built around the ammonia tank as well as the ammonia bunkering truck area, sheds with a water spray system and underground storage tank designed to effectively keep potential accidental discharge under control.
Testing the engine starts by running fuel through a single cylinder, a cylinder that is outfitted with hundreds of sensors and cameras, high speed cameras taking more than 1000 pictures per second that allow MAN ES to closely monitor the combustion process and to quickly and easily modify the parameters to maximize the unit's efficiency. The new ammonia engine is designed on the diesel cycle principle because "we believe it is more robust: ammonia is not a hydrocarbon, it takes a lot more effort and energy to combust it," said Chatterjee. That said, the biggest hurdle is combustion optimization.
"Typically, we run a number of small tests, 10-15 minutes to try something out and then we will change one parameter and run again," said Foldager.
A top concern in any engine development is fuel combustion, from timing to location to angle to amount of fuel spray. "The goal is to have an optimal combustion, and for us, the optimal combustion is where we have the highest possible energy efficiency," said Foldager. "We want to get every single calorie out of the ammonia as we can." In addition to completely burning the fuel for economic reasons, if all of the ammonia is not used in the process that means waste that will need to be handled via aftertreatment. The fuel injectors, in particular, are a point of close development and testing, with close attention on the materials used to facilitate not only optimal combustion but lifecycle maintenance. Development of the ammonia injectors "is quite a big task. The rest of the engine is identical to a normal engine," said Foldager. "It's really the top cover with all these extra gas blocks and valves and having both the alternative and the normal fuel injectors."
Plan A is a combustion cycle that consumes the full amount of ammonia; plan B is aftertreatment.
According to Foldager and Chatterjee, engine optimization and tuning will be paramount to keep in check one of the most harmful remnants of burning ammonia as fuel: nitrous oxide (N2O), which is a more harmful greenhouse gas than carbon dioxide. The current plan is use SCR aftertreament to clean capture N2O, ammonia slip and NOx, too.
In step with effective combustion, Foldager said overall engine reliability is paramount. "It has to be reliable. There's only one engine in the ship, it's the heart of the ship, it has to run 24/7. Third, we have to make sure that the emissions are acceptable."
As designed, "the ammonia is in single wall pipes, but as soon it gets into the engine room, it will go in double wall pipes with an inner pipe and an outer pipe," said Foldager. "Fresh air needs to be continuously circulated through the outer pipe to detect leakage from the inner pipe. We also have a compressor for the ventilation of the double wall pipes."
MAN ES has also developed its own ammonia catchment system, "as a safety feature onboard the ship where we could capture ammonia in the engine room if needed, or we have to empty pipes for whatever reasons," said Foldager. "Water will be a big part of it because that will absorb (the ammonia) In this unit until we can separate water and ammonia again. The water we can reuse or pump out, the ammonia can go back to the tanks, because ammonia will be expensive."
According to the International Energy Agency (IEA), about 180 million metric tons of ammonia is produced annually, with production expected to rise nearly 40% to 250 million metric tons by 2050. Today, China is the largest producer of ammonia (30% of the production volume generating 45% of the associated CO2 emissions), with the United States, the European Union, India, Russia and the Middle East accounting for a further 8-10% each. It is traded globally, with exports via ship equating to about 10% of total production.
The flip side of ammonia is, today, it relies heavily on fossil fuels for its production, and hence emission intensive, too. Long-term, a ramp-up in
'green ammonia' is needed. Another disadvantage to ammonia is its toxicity, and Foldager said that even now, at the research stage, efforts to identify and mitigate risks, from the handling to the burning of the fuel, is central to it's long-term success.
"One accidental spill on a ship could present a major setback for ammonia as a fuel and for the whole decarbonization of the maritime industry," said Foldager. "So we are learning a lot here and I think it's not only about the engines, it's about the safety of the whole system."
With roughly 18-20 million metric tons of ammonia already moving on ships in trade globally, Foldager imagines that these crews and carriers will be instrumental in helping to establish the rules regarding the safe use and handling of ammonia in the maritime sector in masse.
The dual fuel future
In planning for future maritime fuels, MAN Energy Solutions decided to survey it's customers on their short-, medium- and long-term plans, a survey that resulted in more than 500 responses. When asked: "Which type of fuel are you planning to use for your next new-building project?" the poll found in this short- and medium-term scenario LNG/SNG and Biogas are taking the lead, closely followed by MGO/ULSFO/VLSFO; with ammonia, hydrogen, methanol and biofuels emerging in the 'future fuels' category. Noteworthy is that conventional fuel types such as HFO with a scrubber are still considered a viable way for upcoming projects.
When looking at projects past 2035, the picture starts to change more dramatically. For two-stroke engines LNG/SNG and Biogas still lead, but are followed closely by ammonia, hydrogen and methanol.
But also the conventional fuel types such as MGO/ULSFO/ VLSFO are still considered important.
On the four-stroke side a different focus can be found with Hydrogen taking the clear lead, followed next by LNG/SNG/biogas, ammonia and methanol.
Original dual fuel engine (LNG) developed at MAN ES, now with more than two million running hours, by Foldager's estimation are 10-15% more efficient than Otto cycle engines, meaning less LNG is burned, less LNG is needed in the fuel tank, and in some cases, the engines can have one less cylinder premised on better efficiency.
While much of the discussion in Copenhagen focused on ammonia, Foldager said the popularity of methanol as a fuel "is picking up very, very fast, while LNG is still today the leader in dual fuel uptake."
Today, MAN ES has more than 80 orders for dual fuel methanol engines, with hundreds more in negotiation. "It's the shipowners that are pushing for (methanol) right now," said Foldager. "I think the reason why methanol is so 'popular' is it's a clear way to decarbonize it if you have carbon neutral methanol."
Important, too, is the dual fuel methanol technology is proven, with "more than 240,000 running hours since 2016," said Foldager. "It works, it's a proven the technology, and we know how to install it onboard ships. The infrastructure is relatively simple. It's low pressure, the tanks are relatively simple. If you want to decarbonize now, then it's basically methanol."
Earlier this year Hyundai's shipbuilding division (HHI-SBD) ordered 6 × MAN B&W G95ME-C10.5-LGIM dual-fuel main engines in connection with the construction of 6 × 17,000 teu container ships for A.P. Moller – Maersk. To be built in Korea by Hyundai's engine machinery division (HHI-EMD), the engines will be capable of running on green methanol.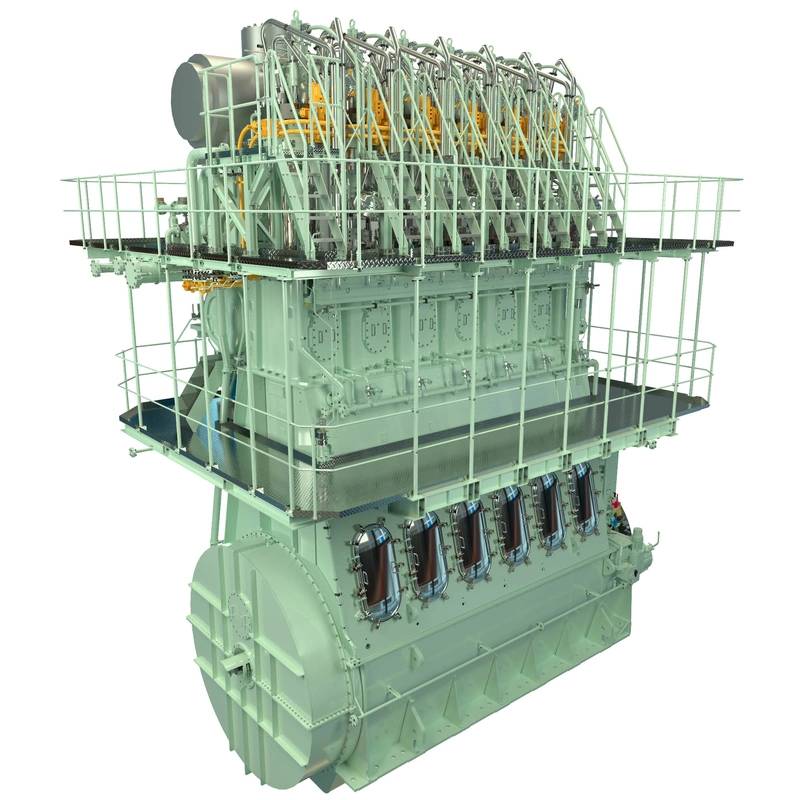 Illustration of the ammonia engine. Image courtesy MAN ES