Mercury Receives Two DAME Design Award Nominations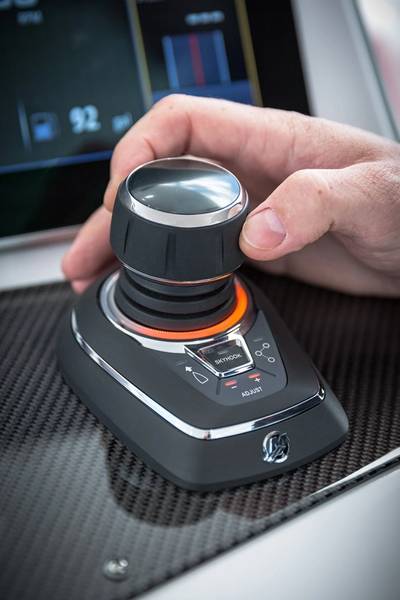 Two products recently introduced by Mercury Marine – Active Trim and Mercury's next-generation Joystick Piloting system – have been nominated for DAME Design Awards, amarine industry international design recognition for new equipment and accessories.

A total of 67 products have been nominated for DAME Awards, and winners will be announced Nov. 15 at the METS Trade Show in Amsterdam. Nominated products will be on display throughout the METS show, Nov. 15-17, and winners are determined by a team of independently appointed judges.

The nominations follow recognition two weeks ago for two additional Mercury products – VesselView Mobile Bluetooth module and app, and Electronic Steering Helm – which earned Innovations Awards at the International Boatbuilders Exhibition and Conference in Tampa, Florida.

Mercury's new Joystick Piloting System and Active Trim are available now through Mercury dealers.

Joystick Piloting
A series of evolutionary improvements to Mercury Marine's Joystick Piloting System, which is part of the SmartCraft digital technology suite, elevate the boater's experience to a new level of driving ease and enjoyment.

Mercury Marine's next-generation Joystick Piloting System gives boaters more confidence when docking a boat or maneuvering at low speeds by providing 360-degree fingertip control over the boat's steering and propulsion.
Integrated Precision Pilot Pad functionality makes Joystick operation even more intuitive.
The new Joystick's mode indicator prominently indicates to the operator Route, Heading and Skyhook (virtual anchor) modes and shows how to change Heading in 1- and 10-degree increments.
New LED light ring changes color to indicate status of Joystick operating mode.
Enhanced reverse thrust for Mercury Verado outboards provides even better control in Joystick Piloting for Outboards applications.
Combined, auto-calibrating IMU (Inertial Measurement Unit)/GPS makes Joystick Piloting System easier for boat builders to install and configure.

Active Trim
Mercury Marine's Active Trim makes boating easier and more enjoyable by automatically trimming outboard and sterndrive engines.


Designed to suit entry-level and expert boaters alike, Active Trim simplifies boat operation while improving engine performance and decreasing fuel costs. New boaters are immediately able to properly trim boat engines with no intimidating learning curve, and experienced boaters can experience the benefit of perfect trimming without constantly monitoring and adjusting trim with changes to boat speed or when going into turns.


Active Trim is compatible with 40hp - 400hp Mercury FourStroke outboards, two-stroke outboards with SmartCraft, and all gas and diesel MerCruiser sterndrive engines with SmartCraft. The system is also available for retrofitting to engines already in the field.


The key to Mercury's Active Trim is its exclusive and patented GPS-based control system. Unlike systems that use only engine rpm to control trimming, Mercury's Active Trim controls the trim in accordance with boat speed and engine rpm. This approach avoids potential problems such as engines trimming up (instead of down) if the propeller breaks loose in a hard turn. It also avoids issues with the engine trimming up too early or too late when the boat is getting on plane. Trim control on high-performance applications is also a benefit of the GPS-based system.


Another Active Trim exclusive are its five selectable trim profiles that accommodate nearly any boat application, from small runabouts, pontoons, bass boats and cruisers to high-performance applications. There's no need to manually enter trim settings vs. rpm into a multi-functional display, as required by some systems. Simply run the boat and select the profile that is best suited for that application. These profiles allow operators to further personalize Active Trim to their driving style and/or compensate for changes in boat load, operator preference and weather conditions, while maintaining full auto operation.

• Florida • Inertial Measurement Unit