Partners Aim to Produce 3D-printed Propeller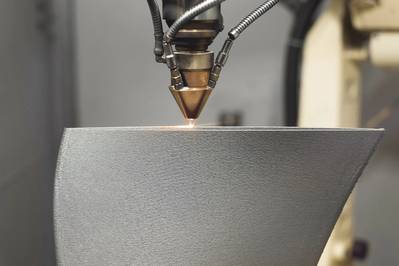 ABS is joining Mencast Marine (MMPL), the Singapore University of Technology and Design (SUTD), and the National Additive Manufacturing Innovation Cluster (NAMIC) on a project to manufacture and class a 3D-printed propeller.
The collaborative project builds upon a memorandum of understanding (MOU) signed by ABS and MMPL that is focused on additive manufacturing (AM), also known as 3D printing, for critical maritime components.
The new initiative has an objective to 3D-print a ship propeller using Wire Arc Additive Manufacturing (WAAM) techniques with a goal to achieve high-quality, low build-time, and support-free prints aligned with the ABS Classification standards for propeller production.
"AM technologies have a huge potential to revolutionize supply chain and maintenance procedures both in maritime and beyond, and ABS is committed to supporting these innovations without compromising safety. Singapore is a critical location of the emerging regional and global green ecosystems, of which Additive Manufacturing is certain to play a role," said Gareth Burton, ABS Vice President of Technology.
"Additive Manufacturing represents the dawn of limitless possibilities in the maritime industry. It emerges as the game-changer, revolutionizing the way we approach complex and labor-intensive components. At Mencast, we see it as the bridge between traditional craftsmanship and future-forward innovation," said Glenndle Sim, CEO of Mencast Group.
"Singapore's first class-certified ship propeller by ABS, commissioned by Mencast, will be developed and manufactured with SUTD's proprietary hybrid wire-arc additive manufacturing platform (H-WAAM). This marks a significant step towards supporting our local leading subject matter experts to transform towards digital and sustainable manufacturing processes as part of Singapore Maritime's industry transformation roadmap. This project represents the culmination of a multi-year effort riding on public-private partnerships, pulling through promising AM research into technology solutions that can be adopted by the industry, to support Singapore's 2030 manufacturing vision and net-zero goals," said Dr. Ho Chaw Sing, CEO of NAMIC.
"We are excited to be part of Mencast's innovation journey towards Industry 4.0 Transformation. We look forward to working with them to translate our hybrid wire arc AM research into the production of Class propellers," said Dr. Soh Gim Song, Associate Professor and Director of Education at SUTD.
ABS has been involved in a range of AM initiatives, including a joint development project to fabricate, test and install functional AM parts on board an oil tanker.