Propulsion Profile: Konrad-driven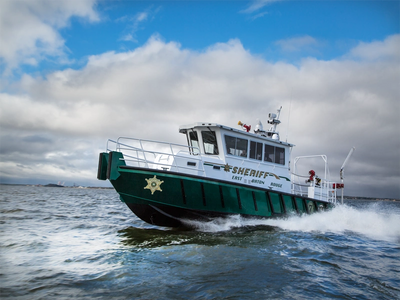 Konrad Marine has launched several iterations of its signature sterndrive since unveiling its first units in the 1990s. Konrad's latest lineup, the 600B series, was rolled out in 2014, with the first drives delivered to customers at the start of 2015 and strong market uptake ever since. Featuring the larger gears first introduced in its 600 series, Konrad's 600B drives also include a new larger transom with integrated steering.
"The biggest change when we developed the 600B series drive was our heavy-duty transom assembly," says Fred Sparling, senior application engineer. "Our original 500/600 series drives used a traditional tiller arm steering arrangement which was commonly connected to an internal hydraulic cylinder. The new 600B series drives no longer have tiller arm steering but now include integrated trim and steering cylinders on the transom assembly.
"The new 600B series also introduced our advanced technology in our trim/rudder feedback circuit which is connected via CAN bus to a newly designed digital display," Sparling adds.
The 600B series consists of three drives: 620B, 660B and 680B, each available in five gear rations, and each manufactured at Konrad's headquarters in Hudson, Wis. The baseline single-propeller option within the series is the 620B, considered the robust workhorse of the lineup, with a diameter range of 17.25"-20" and right- or left-hand rotation. Both the 660B and 680B are dual counter-rotating propeller offerings. The 660B, used for higher speed, lighter applications (25'-30' vessels seeking speeds up to 60 knots), has a propeller diameter range of 13.25"-16", while the 680B, used for heavier applications, with carry capacities up 18,500 pounds per drive, has a propeller diameter range of 15"-18.5".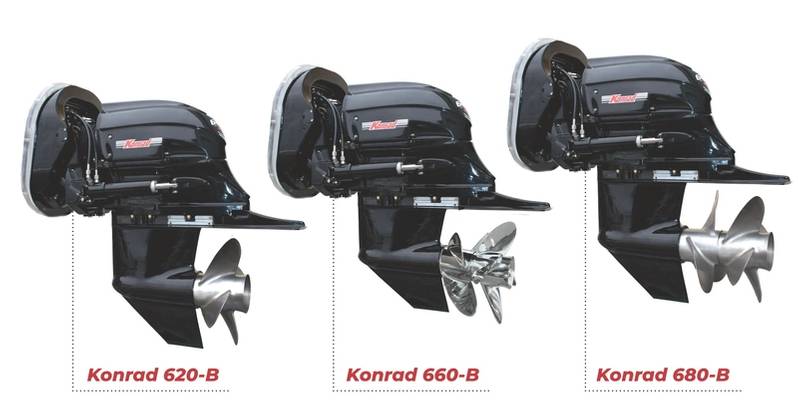 (Images: Konrad)

The 600B series drives are used in many sectors of the marine market, from fireboats and high-speed interceptors to yacht tenders and commercial fishing boats, and have even been deployed in several autonomous applications for the U.S. Navy, says Josh Schroetter, a Konrad sales representative.
Schroetter shared with Marine News details on various recent delivery scopes, from assorted fast patrol craft to a 70-ton workboat. The reference list highlights not only the range of vessel types/applications, but also the diversity of engines Konrad's sterndrives can mate with.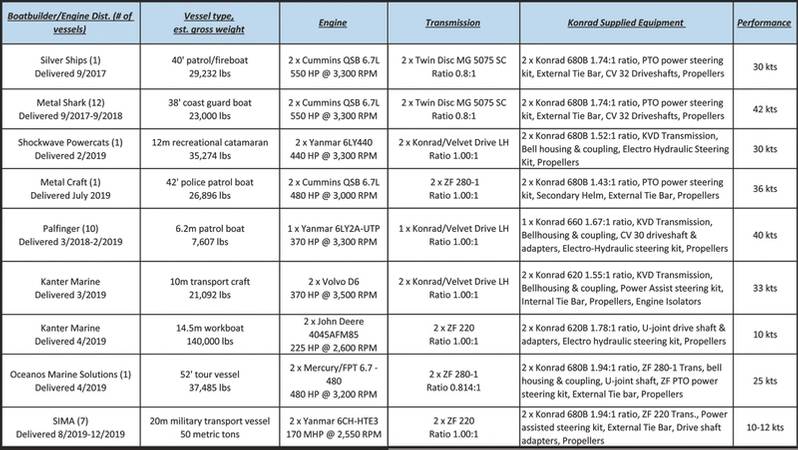 Many police and patrol vessels have speed, maneuverability and seakeeping requirements as well as a need for quick acceleration, which Schroetter says makes 600B drives a great candidate for these types of vessels. "Our drives have great speed potential, ability to maneuver well and are also highly efficient," Schroetter says, adding that Konrad drives are capable of carrying a variety of loads during displacement fluctuations.
High input torque rating and long maintenance intervals also make Konrad drives well-suited for commercial and military customers. Konrad's website says some U.S. Navy vessels reported 10,000 hours logged on single units designed to deliver 2,000 hours. The 680B has been tested well over 100 hours running full power at 580hp, 925 lb-ft diesel engine torque.
In addition, Schroetter says he has seen electric/hybrid applications become more and more relevant every year. "Being that the Konrad drives do not have any internal shifting mechanism the stern drive can be connected directly to the motor leaving the forward and reverse shifting to be done in the motor," he says. "This makes for a very simple and solid propulsion system and with our dual propeller technology. You will also see gains in efficiency."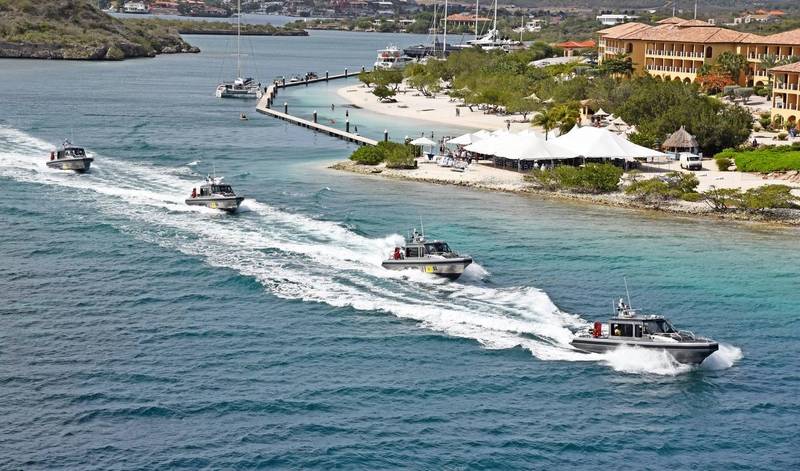 (Photo: Metal Shark)

Schroetter says Konrad ended 2019 and started 2020 strong, with several new application start-ups and a significant amount of parts sales before the coronavirus pandemic began to make its presence felt across the globe. But other than a few vendor-related delivery issues, Konrad has been able to maintain steady business, in part by carrying extra inventory to ensure shipments meet delivery deadlines.
"In terms of order volume, we have seen no decline to this point," Schroetter says. "We have continued to receive a fair amount of activity for quoting new applications."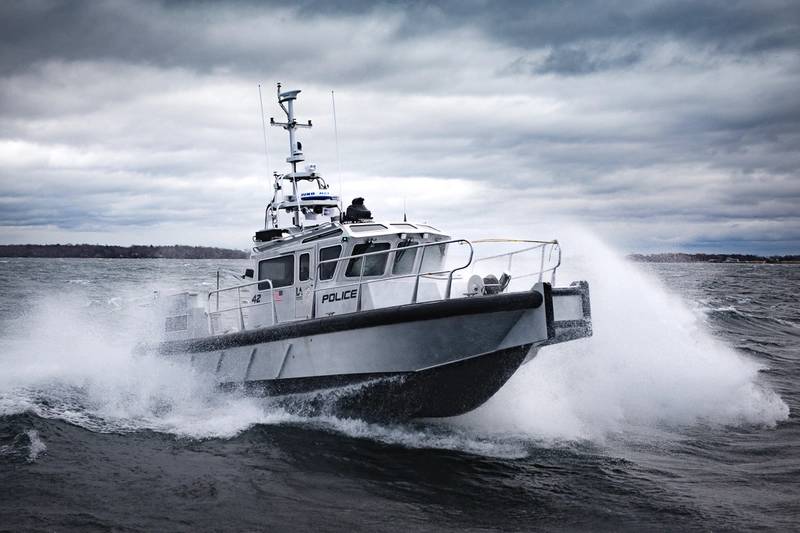 (Photo: Metalcraft)