Wärtsilä Helping with Decarbonization of Orient Express' Bulk Carriers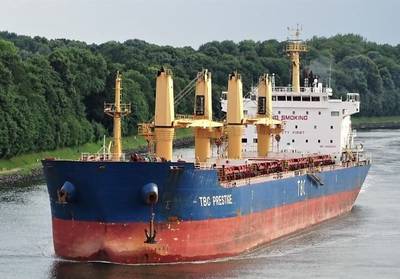 Finland-based marine technology group Wärtsilä will partner with Transworld Group to apply what it says are the most advanced decarbonization modeling capabilities to the bulk carriers sector of Orient Express lines of Dubai.
Orient Exrpress is owned by Transworld Group and Managed by Transworld Ship Management (TWSM), one of India's premium private sector ship management firms.
The project aims to provide decision-making support by simulating the impact of efficiency upgrade technologies on the vessel's environmental performance.
"By creating and validating a digital model of the 'TBC Prestige' based on measured real-life data, various technology solutions can be simulated and assessed. The technology simulations will indicate their effect on emissions profiling, the impact on the ship's Carbon Intensity Indicator (CII) rating, and Return on Investment (ROI) calculations. This is the first such modeling project for the Indian maritime market. The modeling is part of the Wärtsilä's Decarbonisation Services offering," Wärtsilä said.
"We are determined to explore all options for decarbonising our fleet operations. Wärtsilä's modelling capabilities will allow us to determine the best way forward for achieving our sustainability ambitions in the most cost-effective and efficient way possible. The 'TBC Prestige' was chosen for this project as we have ten similar bulk carrier vessels in our fleet," says Sanjiv Kumar, Chief Executive Officer, Transworld Group.
Among the technologies to be examined in this project are a new optimized propeller, Wärtsilä's Energoprofin, an energy-saving propeller cap, a shore power solution, and a shaft generator system.